Hillary Clinton to give talk as part of university's 600th anniversary
The former US Secretary of State will also receive an honorary degree from the University of St Andrews.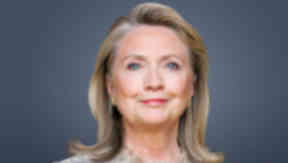 Former US Secretary of State Hillary Clinton is to receive an honorary degree as part of the University of St Andrews' 600th anniversary.
She will address an audience of global academic leaders and students next month as part of the celebrations before receiving a degree of Doctor of Laws.
The university says they are honouring her roles as politician, diplomat and champion of education, human rights, democracy, civil society, and opportunities for women around the world.
St Andrews was founded in 1413 and are celebrating their 600th anniversary with a series of events.
As well as Secretary Clinton's visit, a debate will be held on the future of universities as academics from around the world gather.
St Andrews Principal and Vice-Chancellor Professor Louise Richardson said: "We are absolutely delighted that Secretary Clinton will join us and other distinguished guests from around the world as we celebrate 600 years of university education in St Andrews.
"In addition to traditional celebrations, we will mark the occasion by doing what universities do best, bringing creative and independent thinkers together to ask difficult questions and exchange novel ideas as we explore the role of universities in the centuries to come.
"As one of the most influential women in the world, Hilary Clinton, as stateswoman, senator, and policymaker never shied away from tackling difficult questions, working to make the world a better place, inspiring others, speaking out for the voiceless and striving ever to excel. We are honoured that she will participate in our celebrations."
Secretary Clinton was the US Secretary of State for four years until February this year and played a central role in restoring America's standing in the world.
The graduation ceremony and speech will take place on September 13 and will be streamed live on the university's website.