Killer stabbed father hours after meeting him on dating website
Alan Baker was jailed for a minimum of 19 years for stabbing taxi controller John Weir at least 16 times at his home in Bonhill.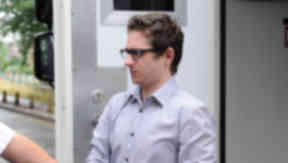 A killer who stabbed to death a father-of-two just hours after meeting on a gay dating website has been jailed for a minimum 19 years.
Alan Baker knifed taxi controller John Weir at least 16 times at his home in Bonhill, West Dunbartonshire in January this year.
The 25 year-old returned to the dock after being convicted of murder last month.
Lord Boyd jailed Baker for life at the High Court in Glasgow on Wednesday and told him he was guilty of a "wicked and brutal" attack on the 36-year-old.
The judge went on: "As for the reason for this, it is only you who will know. John Weir did nothing which remotely justified what happened to him that night."
Lord Boyd also said he hoped Baker - who claimed he was acting self defence - will recognise the "devastating impact" Mr Weir's death has had on those close to him.
Baker grinned as he was lead handcuffed to the cells to begin his sentence.
A jury previously heard how Mr Weir suffered a violent death soon after meeting Baker on a gay dating website on January 3 this year.
The victim, known as Big J, went to Baker's Bonhill home that night after they had swapped details.
In his evidence, Baker, who described himself as "predominately gay", said Mr Weir seemed "a nice gentleman" and that there was "no animosity".
The trial heard claims he later pushed Mr Weir away when he allegedly tried to get intimate.
Baker, who was pursuing a sex change at the time of the murder, said a fight broke out after he was punched on the chest.
The killer told a jury: "I saw him come at me. There was just a change in his eyes. He became really angry looking. At that point I just remember getting a knife put in the side of my neck."
Baker claimed he pushed Mr Weir down on the sofa, but could not recall what then happened. He said when he eventually "came round", he realised there was a body on the floor and that there was a blade in the bathroom.
Baker then bagged up his victim's clothes, boots and mobile phone before dumping them near to his flat. He also tried to clean his blood-soaked property before police arrived. The court heard officers found a wheelie bin in the living room.
Baker alleged: "I don't really have a recollection of bringing in the wheelie bin. The only assumption I can make is that I brought it in to dispose of the body in a panic."
The jury rejected claims that he had been acting in self defence. Lord Boyd also said he did not accept Baker was attacked with a knife and that it appeared it was Mr Weir who was trying to protect himself.
Murray Macara QC, defending, said a pre-sentencing report had stated Baker had suffered from "emotional and sexual problems" in his life.
Mr Macara added: "Clearly something triggered this total loss of self control that resulted in Mr Weir's death."
Mr Weir had lived in Erskine, Renfrewshire with his disabled sister, who was put into care after his death.
After the trial, the father's close friend Michael Lloyd paid tribute to a man who would "always try and help people out".
Mr Lloyd added: "I could not believe what happened to him due to the fact he was so non-confrontational. It is great to see that justice does prevail."