Aberdeen blues guitarist hits high note with Nashville breakthrough
Songwriter Colin Mackay owes the chance to make his debut album with a top US-based producer to a chance meeting in Fochabers.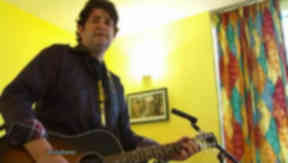 A country singer from Aberdeen has been given the chance of a lifetime to record an album with a top Nashville producer.
Colin Mackay earned his big break after a US-based musician spotted a T-shirt he was wearing at the SpeyFest festival in Fochabers.
The 42-year-old struck up a friendship with bluegrass Hall of Fame nominee Craig Duncan which led to him being invited to record his first album with renowned producer Bill VornDick.
The resulting debut CD, Do What You Love, was the culmination of 30 years' work writing and performing music by Mr Mackay, who took up the guitar at the age of 14.
But he told STV News he had no immediate plans to give up his day job as a pharmaceutical rep.
He said: "I love it because I get to listen to my music in the car and I take my guitar with me. It depends on if Bill calls me from Nashville, but the moment I'm quite happy with the company car. But we'll see."