SNP poll puts 'Yes' campaign point ahead in independence referendum
The survey of 1043 people is the first to put 'Yes' in front since the question was finalised.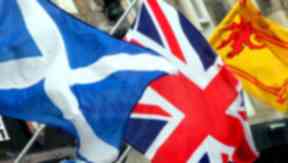 A poll commissioned by the SNP has put support for the Yes Scotland campaign one point ahead of no in the independence referendum.
The survey of 1043 people over 18 years old was conducted by Panelbase last month and found that support for yes was 44% compared to 43% in favour of no.
It also found that 13% did not know which way they will vote in the referendum that will be held next September.
On Monday, the SNP released the results of the poll, which is the first survey to put the Yes Scotland campaign ahead since the referendum question was finalised last year.
SNP Depute Leader Nicola Sturgeon said: "It is game on for next September's referendum. With just over a year to go, this poll indicates that the positive case for yes is capturing people's imagination, while the No campaign's 'Project Fear' is running out of steam.
"The poll also shows that a clear majority of people back the yes campaign contention that Scotland could be a successful independent country - a common-sense proposition which the no campaign daily denigrate. And they trust the Scottish Government rather than Westminster to take decisions for Scotland by a margin of nearly four-to-one. These findings all underline the strength and potential of the Yes vote.
"Polls will move up and down between now and next September as the debate over Scotland's future gathers pace, but these very encouraging figures show that Yes can win and I believe will win. Certainly, the No campaign can no longer take the people of Scotland for granted.
"As we move closer to the referendum voters are beginning to make up their minds - and this poll suggests that as undecided voters find out more about the opportunities of independence, they are backing a Yes vote in increasing numbers.
"Scotland can be a successful independent country, and it is better for all of us if decisions about Scotland are taken by the people who care most about Scotland - the people who live and work here. That is the essence of the case for yes, and it is a compelling and positive case that the No campaign has no answer to."
The poll found that 24% of the participants who voted Labour in the Scottish Parliament constituency vote in 2011 indicated they intend to voted yes. It also showed that 93% of the Yes Scotland campaign supporters surveyed said they are very likely to vote in the referendum, compared to 88% of no supporters.
The Better Together campaign stated that it would not dismiss the SNP poll, while it also highlighted the results of a YouGov survey published on Sunday which showed 59% of those who took part would vote No.
A spokesman for the pro-Union group said: "Yesterday, an opinion poll was published that showed support for independence at a record low. Our message then was that we cannot afford to be complacent for one moment.
"We are sure that many will be quick to dismiss this SNP-commissioned poll, but we will not be doing that. Our message today is the same as it was yesterday. If you support Scotland staying a strong part of the United Kingdom then you need to make your voice heard. We will be fighting for every vote between now and the referendum next year."