Police trained by university experts on how to tackle cyber crime
Scots staff first to take part in an advanced Digital Investigator course set up at Edinburgh Napier University.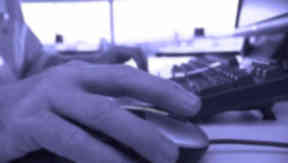 Police Scotland staff are to be the first in the UK to receive training from university experts on how to tackle cyber crime.
Detectives and police staff from across Scotland will take part in a new advanced Digital Investigator course set up by cyber security experts at Edinburgh Napier University.
With increased concerns about e-crime, the one-week course will cover internet skills including tracing instant messaging, phishing attacks and capturing and analysing web traffic.
The training will keep officers up to date on the latest threats and aims to improve the prevention and detection of crime.
It also aims to arm investigators with the ability to quickly gather electronic information to support any police investigation and help create safer virtual communities.
The course will be run from the university's Cyber Security lab and has been a year in the planning with the first set of officers set to begin training on Tuesday.
Professor Bill Buchanan, director of Edinburgh Napier's Centre for Distributed Computing, Networks, and Security said: "We are teaching investigators a deep understanding of network infrastructures and the associated trails of evidence.
"Scotland needs to develop these professionals in order to mitigate the risks of the Internet, and it is great to see this investment in skills now happening here.
"We feel privileged to train these investigators, as we can learn just as much from them as they do from us."
Detective Superintendent Steven Wilson, Police Scotland's Cybercrime lead, said: "Police Scotland's key objective is to keep communities across Scotland safe, we recognise that individuals spend a large proportion of their time in the online world and businesses increasingly are dependent on e-commerce to grow their businesses.
"The protection of Scottish communities in the virtual world is of key importance.
"Investigations in such a quickly evolving area present significant challenges to law enforcement and providing our officers with an in depth understanding of cyber investigations is fundamental to the delivery of a quality service.
"This cooperation with Edinburgh Napier University has significant benefits for both parties and the learning from it will be equally beneficial to industry.
"Through cooperation between law enforcement, education and industry we hope to make the internet a safer place for Scottish communities and businesses to thrive in."