Search for young man missing from North Sea ferry called off
Coastguard yet to decide if the search for 22-year-old feared to have fallen overboard will resume.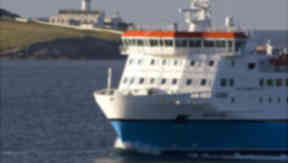 The search for a 22-year-old man reported missing from a North Sea ferry was called off on Monday evening.
During the operation, co-ordinated by Aberdeen Coastguard, there were 25 vessels, including three RNLI lifeboat teams, as well as two helicopters involved, according to coastguard officials.
The man went missing from the Shetland to Aberdeen overnight ferry shortly before 6.30am on Monday.
He was last seen on NorthLink's MV Hjaltland at 4am, which led to an extensive search of an area off the north-east coast of Scotland.
The RAF helicopter, Rescue 137, from Lossiemouth and the Coastguard helicopter, Rescue 102, from Shetland joined the search along with RNLI crews from Fraserburgh, Peterhead and Aberdeen, as well as 22 merchant boats, the coastguard said.
At 8pm the search was called off and, at that time, the coastguard had not decided if the search would resume on Tuesday.
The ferry, carrying 160 passengers, was getting close to Aberdeen when it raised the alarm.
It retraced its route to help with the search but later docked at Aberdeen.
A coastguard spokesman said: "We got the call at 6.23am this morning from the overnight ferry the Hjaltland, the Shetland to Aberdeen ferry. She was approaching Aberdeen at the time and reported a passenger on board missing.
"That person had last been seen at 4am. A search of the vessel confirmed they weren't on board.
"We launched a search and rescue operation. It's [over] a fairly large area."
The search focused on a long, thin stretch of water on the ferry route from just north of Aberdeen up to Rattray Head, between Peterhead and Fraserburgh.
In a statement, the ferry operator said: "NorthLink Ferries can confirm that the Hjaltland arrived back into Aberdeen at 11.45am today. The ferry was turned back to assist the coastguard with a search for a passenger reported missing from the vessel this morning.
"The passenger was last seen on board at approximately 4am and a search involving a number of lifeboats, other vessels and helicopters is concentrating on an area off Peterhead.
"The MV Hjaltland, with 166 people on board, left Lerwick at 7pm yesterday and was due into Aberdeen at 7am today.
"No further details are available but the company's prime concern is for the safety of the missing passenger."
Police were informed of the incident at 6.45am and confirmed that the missing passenger is a 22-year-old man.
Officers in Aberdeen have been speaking to other people who were on the ferry to gather information.
In a statement, Police Scotland said: "We are currently working with the Maritime and Coastguard Agency and RAF search and rescue to establish the full circumstances surrounding the incident."