Renewable energy strategy 'stalled' says public spending watchdog
Economic crisis, private sector caution, changes in UK energy policy and EU regulations to blame.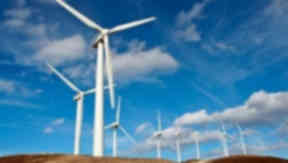 Hopes of generating all of Scotland's electricity and creating 40,000 jobs with renewable energy by 2020 have been stalled by the economic crisis, private sector caution, changes in UK energy policy and EU regulations, the public spending watchdog has found.
The Scottish Government's 2020 target and its "optimistic" employment projections are "challenging", according to a report by Audit Scotland.
"Scotland's strategy for renewable energy is a good example of clear leadership and direction supported by integration across other policy areas," Auditor General for Scotland Caroline Gardner said.
"While there are aspects the Scottish Government and other public bodies should improve, the main challenge is that private sector investment has been slower than expected, reflecting the state of the economy and the uncertainty of developments in the wider UK energy sector."
Renewable power "needs to double" to meet the targets, the report states.
Offshore developments have the greatest potential as they are more efficient than onshore centres, but they are experimental and require "billions of pounds" of private investment which is thin on the ground, it said.
Uncertainty over UK energy policy, costs and reliability of renewable technology and access to the grid are deterring large-scale investors and delaying investment decisions.
"Although manufacturing, engineering and utilities companies have made commitments to locate and invest in Scotland, the majority of actual investment will be after 2015," the report states.
"Industry is waiting for clarity on issues such as UK energy policy, access to the national grid, and technology costs and reliability before it invests."
Public funding is "comparatively small" but it is intended to attract "billions of pounds of private sector investment", the report says.
The National Renewables Infrastructure Plan (NRIP), designed to prime 11 ports and harbours for offshore wind, is estimated to need £253m by 2013-14.
The £11.4m of public cash spent so far has attracted £15.4m in private funding, amounting to just over a tenth of the projected cost for NRIP.
The £101m Renewable Energy Investment Fund was expected to spend £16m in 2012-13 but spent just £1.6m because "few projects were in a position to spend any money".
The report states: "The scale and rate of investment by the public and private sectors has been lower and slower than expected, owing to uncertainty over where and when the offshore wind industry intends to invest.
"The Scottish Government has made steady progress towards its renewable energy targets for 2020. However, achieving these targets will be challenging and depends on significant activity and investment by the public and private sector.
"We estimate that to meet the renewable electricity target alone, average annual increases in installed capacity need to double.
"The Scottish Government estimates that renewable energy could deliver up to £30bn investment and 40,000 jobs by 2020.
"Even if all of the 293 renewable electricity projects under construction or with planning permission at March 2013 go ahead, meeting the 2020 target will require at least a further 3733MW of installed capacity.
It adds: "At March 2013 there were a further 369 proposed projects, with a total installed capacity of 8639MW. However, it is unlikely that all of these projects will proceed, as they may fail to secure planning permission or finance."
The report outlines the potential of offshore wind to "rapidly accelerate" renewable power, with the smallest proposed offshore wind project able to generate as much power as the largest onshore development.
But it adds: "Successfully developing, testing and building offshore wind projects to be operational by 2020 will be challenging. It is a new industry that requires billions of pounds of investment from the private sector. The current financial climate, and other factors are delaying investment decisions."
A Skills Development Scotland investment plan estimates there could be up to 40,000 renewables jobs by 2020, describing this as "the most optimistic scenario".
The report states: "The least optimistic scenarios suggest that potential employment opportunities could be a third of this (13,000)."
EU regulations which required the Scottish Government to change community renewables grants to loans, with 10% annual interest, stalled investment as applicants delayed their loans to avoid paying interest.
Niall Stuart, chief executive of industry representatives Scottish Renewables, said: "The report highlights the clear and strong energy policy from the Scottish Government, which has given the industry confidence to invest and build in Scotland, with output of renewable power doubling in the last five years as a result.
"In the last decade more than £209m of public sector money has been invested in the renewable energy sector, while the renewables sector has invested more than £1.5bn in the Scottish economy in 2012 alone.
"Audit Scotland also found that there were a number of challenges facing the industry in terms of future job growth, especially around offshore wind, and that's why it's crucial the UK Government get on with delivering Electricity Market Reform and give this sector the clear direction of travel it needs."
Energy Minister Fergus Ewing said: "This report shows that strong and strategic leadership from this Government within the renewable sector is key to the successes to date.
"We continue to make good progress and are on course to achieve our interim target of generating the equivalent of 50% of our gross electricity consumption from renewable sources in 2015.
"The Audit Scotland report found that in the last 11 years the public sector has invested more than £209m on developing the renewable energy sector, and funding is increasing.
"The budget announced yesterday will more than match this spend with £200m capital investment in key schemes such as the NRIF in 2014-15 and 2015-16 and an acceleration of the Warm Homes Fund for communities facing fuel poverty to meet our manifesto commitment a year early.
"We continue to see major announcements driving forward the development of renewables. Our £35m Prototyping for Offshore Wind Energy Renewables Scotland (Powers) has already been successful at attracting inward investment to Scotland.
"Scottish Enterprise awarded Samsung Heavy Industries £6.04m Powers funding to support the development of its latest 7MW Offshore Wind Turbine prototype at the Energy Park in Fife.
"However, we recognise, as the report does, that renewable energy projects are progressing more slowly than anticipated owing to factors such as the current economic climate and changes in UK energy policy. With the uncertainty surrounding UK energy policy we are responding to these market conditions by re-profiling our renewables budget, including our flagship REIF (Renewable Energy Investment Fund), so that the sector can be confident of continuing support into the future."
Conservative energy spokesman Murdo Fraser, convener of Holyrood's energy committee, said: "This shows that the Scottish Government renewables target is far too ambitious and the timescale is already slipping. There are hundreds of windfarm applications which have been handed approval but yet to be built, and hundreds more in the application stage.
"Huge swathes of these are going to have to be pushed through if this ludicrous goal is to be reached. That is a matter of huge concern and shows that the recent drawing back from the turbine obsession by Alex Salmond is nothing but a temporary appeasement.
"And the report has even said his claim that renewables support 11,000 jobs in Scotland today has zero credibility. It's an entirely spurious figure that neither he nor Scottish Renewables can verify.
"We believe there is a place for renewables in a mixed-energy environment and that is a far more sensible and sustainable approach than the SNP's.
"This report reveals the hundreds of millions the Scottish Government will throw at this issue in the next couple of years, even though private firms are waking up to the fact that it is an incredibly unreliable and intermittent sector."
A statement from Scotland Against Spin, a campaign calling for the reform of Scotland's wind energy policy, said: "Audit Scotland's gently devastating report shows that the game is up for the Scottish Government's renewable energy policy.
"Alex Salmond's grand promises of renewables jobs and investment have dissolved into discredited statistics and photo opportunities for politicians signing meaningless memoranda of agreements.
"The Scottish Government needs to stop throwing good money after bad and redo its energy policy from start."
Scottish Labour energy spokesman Tom Greatrex, MP for Rutherglen and Hamilton West, said: "Audit Scotland's assessment of the SNP's energy programme lays bare the chaos and confusion of their ill-thought through policy.
"By failing to develop a long-term policy framework or to make an assessment of the investment needed beyond 2015, the SNP have undermined the credibility of their programme.
"Audit Scotland have proved that SNP energy policy is all about headlines and promises, with little regard to substance."
Sam Gardner, head of policy at WWF Scotland, said: "Today's report shows that the Scottish Government is making clear progress towards establishing Scotland as a renewable powerhouse, which is attracting investment, cutting climate emissions and generating thousands of jobs.
"Alongside energy efficiency, the renewables sector is a vital tool in tackling climate change. The wind, waves and tides of Scotland provide us with a huge opportunity that we must seize if we are to make the transition to a low carbon economy."