Lack of supply teachers is an 'issue across Scotland' warns union
The Education Secretary admitted it was an issue in some areas.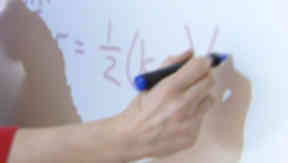 A lack of a supply teachers is a problem across Scotland, a teaching union has warned.
Education Secretary Mike Russell insisted action is being taken to address it and that the shortage "doesn't exist in every area and it doesn't exist in every subject".
Supply teachers fill in and take classes when other teachers are absent.
Larry Flanagan, general secretary of the Educational Institute of Scotland (EIS) teaching union, said that in some areas, more than half of all requests for supply teachers are not met.
Mr Flanagan told BBC Radio Scotland: "A survey that was carried out of the 32 local authorities indicated that across the country there was a problem.
"In some areas it was significant: over 50% of requests unmet. In other areas they were managing a little bit better. But generally speaking, it's an issue across the length and breadth of Scotland."
The Education Secretary, also speaking on the programme, said: "There is a problem and we need to resolve this problem."
The shortage results from a pay deal agreed two years ago by the Scottish Government, local councils and the EIS, which gave supply teachers the "basic" teaching salary for the first five days of any placement before going on to a higher rate, according to Mr Russell.
When asked if that means it is not worth teachers' while coming in to do supply work, he said: "I do think in some areas that has been the case and that is why there is a new offer on the table to try to overcome that."
Talks are now taking place to change that system, with a new offer on the table, he said. A reduction in the number of teachers who are out of work also contributes to the shortage, according to Mr Russell.
He said: "The other issue we have is we have very few unemployed teachers in Scotland.
"Three years ago we had far too many. We've worked very hard to reduce it. What we are trying to do is to solve this problem which exists in some areas and in one or two subjects. But it doesn't exist in every area and it doesn't exist in every subject.
"It's certainly undesirable. But local authorities are the employers and I think we would all expect to move their resources around as they need them.
"And if we work together, including the new offer that's on the table, then I think we can move forward from this."
Scottish Conservative education spokeswoman Mary Scanlon MSP criticised Mr Russell and accused him of "sugar coating" the situation.
She said: "This situation is completely unacceptable, and the complacent sugar coating of the situation by the Scottish Government makes it worse. Supply teachers play a vital part in school education, and a quite different one from that of full-time teachers.
"Unfortunately, that is not reflected in the current structure of pay and conditions, which has clearly put off many who would happily have put their name down in the past. There is little flexibility in the workforce planning which hampers local authorities, and that has led to demand and supply being some way apart.
"In some rural areas, you have children missing out on weeks of specialist teaching in subject areas. For them, that could be the difference between going to university to fulfil career ambitions, and missing out. It is not good enough for Mike Russell to palm this off on there being more permanent teachers - pupils and parents deserve a much more thorough explanation."