Vatican diplomat ordained as Archbishop of St Andrews and Edinburgh
Monsignor Leo Cushley was appointed by Pope Francis to take over the archdiocese from Cardinal Keith O'Brien.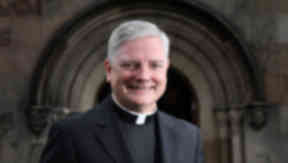 Hundreds of people have gathered in Edinburgh to witness the ordination of the new Catholic Archbishop of St Andrews and Edinburgh.
Monsignor Leo Cushley was appointed in July as the successor to Cardinal Keith O'Brien, who resigned in February after admitting sexual misconduct.
He told the clergy during the special service: "As you may know, a couple of weeks ago the Holy Father called me in to see him. He wanted to know about all of you and to hear what I could tell him about my plans and priorities, and he listened and commented at length, with the sympathy and understanding of a man who had been an archbishop in a big capital city for many years - Buenos Aires.
"One of the things he communicated then and in the coming days was the idea that I should be merciful in my ministry here."
He continued: "But he explained that being merciful doesn't mean being soft. It means being gentle but also firm at the same time. This is what the Pope asked me to be for all of you.
"It is also Pope Francis' proposal for the way we priests ought to be with each other: firmly resolved to be merciful, to forgive, to be humble, to rebuild, to dialogue."
Archbishop Cushley has said his predecessor should consider "not coming back to Scotland" after he left the country for a period of prayer and penance.
The 52-year-old from Airdrie becomes the eighth archbishop of the diocese since the restoration of the Catholic hierarchy in 1878.
He was ordained a priest in Uddingston in 1985 and has spent the last 20 years in Rome with the Vatican's diplomatic service.
He admitted to being "surprised and shocked" when Pope Francis asked him to return to Scotland because of his lack of experience in a pastoral role.
He was consecrated by Cardinal James Harvey, from Wisconsin in the US, assisted by Philip Tartaglia, the Archbishop of Glasgow, and Archbishop Antonio Mennini, the Pope's representative in the UK.
Among those attending the ordination service at St Mary's Cathedral were First Minister Alex Salmond and Dr Lorna Hood, the Moderator of the General Assembly of the Church of Scotland.
Ms Hood offered the new archbishop a "warm welcome".
She said: "I have no doubt that he will be a caring, humble and loving shepherd of his new flock."
Mr Salmond said: "I warmly congratulate Archbishop Cushley on his ordination and wish him every success in his new role. The Catholic Church plays an important role in our society, in our history and in our future.
"I look forward to building on the strong and respectful relationship we have as a Government with the Catholic Church in Scotland, and I also look forward to working with Archbishop Cushley as he begins this new period of service both in the Catholic Church and among the people of Scotland."