Only one in ten deems counterfeit trade part of organised crime
Drug-dealing was the offence cited by most respondents, followed by money laundering and human trafficking.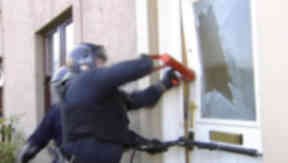 Only one in ten Scots associates the trade in counterfeit goods with organised crime, a new survey has shown.
Drug-dealing was the offence cited by most respondents, followed by money laundering and human trafficking.
Although 90% had not been affected by organised crime in the last three years, 27% thought it was a serious problem in their neighbourhood and 84% deemed it a serious problem for Scotland.
The report, conducted for the Scottish Government by Ipsos MORI, came as Justice Secretary Kenny MacAskill was to be briefed on efforts by Trading Standards Scotland to crack down on crime gangs.
Mr MacAskill said: "We know that serious organised criminals in Scotland will be tenacious in exploiting every avenue in human misery to make money from their illegal doings. Buying fake designer handbags, watches and sunglasses might be seen as a victimless way to get something desirable on the cheap, but there is no doubt that many of these items have a long back story of criminality, often involving violence."
The SNP politician praised the work of the Anti-Illicit Trade Hub which was established in April to focus on gathering intelligence about crime gangs and helping police bring prosecutions.
He added: "By tackling the influx of counterfeit goods, police and other enforcement authorities are removing the means by which serious organised criminals operate, curtailing their criminal activities. The creation of the Anti-Illicit Trade Hub has proved to be an invaluable resource in achieving this, and the breaking down of artificial barriers with the creation of Police Scotland has allowed officers from the Specialist Crime Division to be more agile and intelligent in their criminal detection.
"I am convening a meeting of the Serious Organised Crime Taskforce later today where the research report will be discussed amongst the key agencies and provide members with a vital benchmark of public perception to influence work going forward."
The study, which saw 1001 adults interviewed by telephone, is the first nationwide survey of public attitudes towards organised crime.