Images show how under-construction aircraft carriers will look
Computer generated pictures of the Queen Elizabeth carriers being built in Rosyth have been released.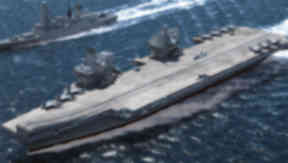 New computer generated images showing what two aircraft carriers currently being built in Scotland will look like when they are operational have been unveiled to the public.
The pictures come from designers at the Aircraft Carrier Alliance and show the Queen Elizabeth Class ships, HMS Queen Elizabeth and HMS Prince of Wales, as they will look when they enter service.
Seven shipyards across the UK have contributed to construction, including BAE's yards on the Clyde. Final assembly of the vessels is taking place at Babcock Marine's yard in Rosyth.
The operating budget for construction of the two ships is £5.9bn and the first is set to be completed next year.
Aircraft Carrier Alliance Programme Director, Ian Booth, said: "There are 10,000 skilled people involved in creating these two ships in the UK, and together we are making tremendous progress.
"The first, HMS Queen Elizabeth, is now almost fully assembled and we are looking forward to her taking to the water for the first time next summer."
At 280m in length and 70m width, the carriers will be the largest ships ever to enter service with the Royal Navy. Weighing in at 65,000 tonnes, they will be home to as many as 1600 men and women and will operate a mix of fixed-wing aircraft and helicopters.
However, questions remain as to the final fate of the HMS Prince of Wales. The Strategic Defence Review of 2010 declared that the UK only needed one carrier, but it was found that cancelling the construction of the second vessel would be more expensive than building it.
A decision on whether to sell the ship, mothball it, or commission it for the Royal Navy will be taken in 2015.
The carriers are being delivered by the Aircraft Carrier Alliance, a partnership between BAE Systems, Thales UK, Babcock and the UK Ministry of Defence.