Trainspotting and Filth author calls for decriminalisation of drugs
Irvine Welsh said addicts would be safer if drugs were not illegal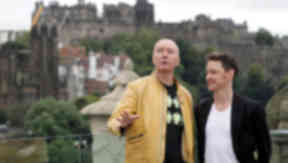 Trainspotting author Irvine Welsh has said drugs should be legalised to allow people to "take responsibility for themselves".
The 54 year-old, whose novel Filth hit cinema screens in Scotland this week, said he thinks decriminalising drugs would make them safer for addicts.
He said: "If people are going to take drugs - and they are because it's so much a part of who we are - then let's get rid of the nanny state stuff.
"Let's have good quality licensed [drugs] where manufacturers have to compete in the marketplace with each other, as is the case with alcohol.
"In a sense, whatever we do with drugs, they make fools of us. When you try to this in a controlled or a legal context you're setting yourself up for some kind of failure and humiliation, but we do have a need to do that.
"I'm more into the idea of ending prohibition now and licensing it, put it into some kind of framework. Unless something is really harmful and is going to kill you outright, then let's take it out of the hands of gangsters and let people manage their own personal drug intake. Let people take responsibility for themselves."
Last year it was reported that there were 581 drug-related deaths in Scotland. Of these, 38 percent were potentially caused by heroin, while methadone was implicated for 41 percent of cases.
The figures, released by the National Records of Scotland, showed that a third of those deaths were among people aged between 35 and 44.In the same year the number of alcohol-related deaths fell by 13 percent, to its lowest level for 15 years.