Second sickness and diarrhoea outbreak on cruise ship in two weeks
A total of 122 guests on the Black Watch have caught the bug after a 12-night cruise around Spain.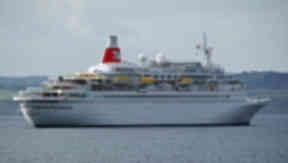 A total of 122 guests have caught a sickness and diarrhoea bug on a cruise liner, less than two weeks after passengers contracted the illness on the same ship.
The Fred Olsen-operated Black Watch ship left Rosyth in Fife on September 20 for a 12-night cruise around the World Heritage Sites of the north coast of Spain, and returned on Wednesday. Of the 737 guests on board, 122 contracted a gastroenteritis-type illness, a spokeswoman for the company said.
Specialist cleaners were called to the ship last month after 130 people fell ill on a previous Black Watch cruise, a 12-night trip to Scandinavia and the Russian city of St Petersburg, returning to Rosyth on September 20.
A spokeswoman for Fred Olsen said: "It is unfortunate that, even with the extra preventative and containment measures that were put in place, a number of guests on board this Iberian cruise have experienced this illness. A number of guests were also affected on the preceding cruise, a 12-night Scandinavia & St Petersburg cruise, which departed from Rosyth on September 8.
"It is notable that in some cruise terminals in regional UK departure ports, such as Rosyth, there is no ability to segregate disembarking and embarking guests, which increases the possibility of cross-contamination no matter how thoroughly the ship is deep-cleaned and fumigated."
The ship has been cleared to sail to Dover where it will start its next cruise and, en route, it will be subjected to deep-cleaning, sanitisation and fumigation by professional contractors, Fred Olsen said.
The spokeswoman said: "Fred Olsen worked closely with the local health authorities, Rosyth Port Health and the Maritime and Coastguard Agency and, following a thorough onboard inspection, confirmed that they are satisfied with the containment and preventative measures being undertaken, and the ship was cleared to set sail for its next departure port, Dover, from where she will embark on a 16-night The Azores & The Canaries cruise, W1319, on October 3 2013."
Guests who left the ship in Rosyth and did not fall ill have been given a letter by Fred Olsen, describing the symptoms and what to do if they think they do have it.
Passengers due on the next cruise have also been sent a letter explaining the situation and will be given a similar letter when they check in at Dover.
The spokeswoman said: "At Fred Olsen Cruise Lines, the health, safety and well-being of all our guests and crew is paramount, and we believe that our systems for preventing the spread of illness on board our ships are amongst the best within the industry."
"We take any outbreak of illness on board our ships extremely seriously, and we work closely with all the relevant authorities to ensure that the same high standards of hygiene and sanitation are maintained across our fleet."