Scottish film legend Cox dumps Labour for SNP
X-Men star and lifelong Labour supporter switches his allegiance because he trusts Alex Salmond on free education policy.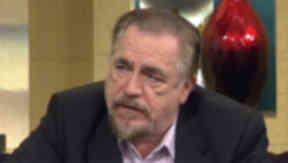 Hollywood star and lifelong Labour supporter Brian Cox has revealed he's jumped ship to join the SNP.
The Dundee-born film legend believes Alex Salmond has a "vision" and that only his party will defend free education.
Cox, who shot to fame as the original Hannibal Lecter in Manhunter, said: "I am happy to endorse Alex and hope to see him re-elected in May."
The X-Men star, who serves as University of Dundee rector, voiced Labour's last election broadcast just four years ago and his defection is major coup for the SNP.
The 64-year-old told the Scottish Sun: "As a lifelong Labour supporter, I find myself in this particular election feeling that I must support Alex Salmond and the SNP.
"The SNP has a vision for education in Scotland and the experience to ensure that they see it through.
"I feel that Alex Salmond's policies are the right policies to hold the line against tuition fees in Scotland.
"I believe passionately in free education and know that as long as Alex is First Minister, he will defend this principle."
A delighted Mr Salmond welcomed Cox's support.
He said: "It is great to have this endorsement from one of Scotland's most famous sons, and on the positive policy of supporting free education."
Although Labour insist they will keep university education free in Scotland if they triumph in the May 5 poll, Cox does not believe them.
IN DETAIL