SNP launch 'Re-elect' manifesto with independence referendum vow
The party also say they will continue the council tax freeze for five years, keep education free, and protect the NHS budget.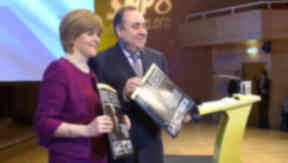 The SNP has launched its election manifesto with a vow to bring forward an independence referendum during the next Parliamentary session.
Leader Alex Salmond said that the SNP would "give Scots an opportunity to decide our nation's future". adding that opposition parties would "have no choice" but to back a referendum if the SNP were re-elected to a second term.
Pledges in the manifesto - dubbed 'Re-elect a Scottish Government working for Scotland' - also include a council tax freeze for the entirety of the next parliament, after which a consultation would be held to replace it with a "fairer system based on the ability to pay". Mr Salmond said the freeze would save families £1200 each year.
Promises to protect the NHS budget and police numbers also appear in the document, along with a commitment to keeping education free for students. Mr Salmond said: "The rocks will melt with the Sun before there are tuition fees in Scottish universities."
There is no mention of a single police force in the manifesto, but it does include a proposal for a single fire service.
Other SNP policies include plans to create 130,000 new jobs in low-carbon industries and a proposal to get 100% of Scotland's domestic energy from renewable sources by 2020. Mr Salmond said: "Scotland will engineer the 21st century just as this country once engineered the 19th century."
The party also said it will guarantee 100,000 training opportunities a year, including 25,000 apprenticeships, and invest in building new schools.
Policies the SNP failed to muster enough support for in the last Parliament are also included, including resurrected plans for minimum pricing on alcohol.
The Nationalists, seeking re-election to government on May 5, are the last of the larger parties to launch their programmes for the next Scottish Parliament, following manifestos from Labour, the Liberal Democrats and the Conservatives.
'People's manifesto'
Mr Salmond said the policy plan was "the people's manifesto", highlighting the fact that 15,000 people were involved during the consultation period. He also praised Finance Minister John Swinney for making savings through "more efficient" government and said that the SNP's vision of a "free and independent" Scotland gave them an advantage over other parties.
Mr Salmond will also be bouyed by Liberal Democrat leader Tavish Scott's comments on STV's Face-to-Face that he would not rule out a coalition with the Nationalists, despite disagreement over the question of independence.
But Scottish Labour leader Iain Gray has attacked the manifesto for failing to address Scotland's unemployment problem.
He said: "No wonder the SNP kept this document hidden for so long. This is an 'everything is fine manifesto', but everything isn't fine.
"Ten thousand people joined the dole queue in the last year, families are feeling the squeeze, and youth unemployment is in crisis. To the 219,000 Scots out of work and looking for a job, this manifesto offers no hope and no ideas."
Other parties criticised the SNP for not delivering on promises made in their last manifesto.
Murdo Fraser, Scottish Conservative Deputy Leader, said: "The SNP's manifesto must be checked against delivery.
"In 2007, the SNP promised – amongst other things – to dump student debt, cut class sizes for P1 - P3 pupils to 18 or fewer, give all first time buyers a £2000 grant, give every child in every school two hours of PE a week, introduce a local income tax, hold an independence referendum and end automatic early release.
"On none of these promises have they come even close."
Liberal Democrat Campaign Chair George Lyon said: "The SNP say that they want to maintain their commitment to keep 1000 extra police officers on the street. But if they forge ahead with their flawed and dangerous plans to create a single national police force, 3000 police officers could be lost.
"With little else to offer the electorate, the SNP have had to fall back on rehashing the same old tired lines on independence, ignoring reality and instead promising the electorate that Scotland would become a mini nirvana if Scotland was to become independent.
"The SNP will always put independence before the needs of the Scottish people."
IN DETAIL