Report links deaths from preventable disease to social inequality
A study by NHS Scotland said tackling inequality was essential to closing Scotland's health gap.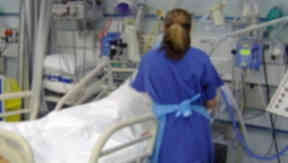 Scotland's health gap will only be reduced if serious efforts are made to tackle social inequality, a new report has concluded.
NHS Health Scotland said there was a clear link between deaths from preventable causes, such as alcohol abuse and heart disease, and social deprivation.
Rates were broadly consistent across the social spectrum for non-preventative deaths, such as brain and ovarian cancer.
Andrew Fraser, director of public health science at NHS Health Scotland, said: "Prevention is achievable, and inequalities are not inevitable. We can anticipate that the burden of health care facing the NHS, communities and families will become progressively greater if we as a country don't provide the answers."
The study measured trends in Scotland's health inequality and particular causes of death over a 30-year period.
Dr Gerry McCartney, head of the public health observatory at NHS Health Scotland, said thousands of "unnecessary and unjust deaths" happened every year because of health inequalities.
"The reason that health inequalities did not fall as particular causes were successfully tackled may be because individuals with more resources were able to protect themselves against new threats to health," he said.
"Elimination and prevention of inequalities in all-cause mortality will only be achieved if the underlying differences in income, resources and power across Scotland are reduced."
There have been periods when health inequality has decreased in the UK, which suggests this can be tackled and that the most common factor to health inequalities is social inequalities.
Public health minister Michael Matheson said: "I welcome this report, which reflects the fact that health inequality is one of Scotland's greatest challenges.
"Overall, Scotland's health is improving, with people living longer, healthier lives, but we need to do more to reduce the health gap between the richest and the poorest people.
"This is not just a health problem and the responsibilities for the underlying causes - poverty, income inequality, our environments - lie outwith the health system. We are shifting our emphasis from dealing with the consequences to focus on prevention.
"The UK Government's welfare reforms will have a profound effect on people in Scotland and the changes are likely to widen the health inequality gap, increase poverty and have a negative impact on local economies.
"We are working within our existing powers with all of our partners to tackle poverty, inequalities and injustice that will make a real difference to health inequalities."