Fishing family rattled after reeling in three-foot snake
A family from Linlithgow on an angling trip were shocked when a poisonous adder slithered onto their fishing rod and bared its fangs.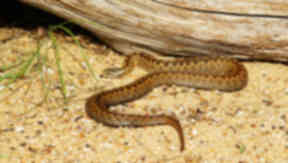 **A family on a fishing trip were left rattled when they reeled in a three-foot poisonous snake. **
Gordon Jack was taking a lunch break with his wife Gill, 40, kids Megan, 13, Sam, 10 and Emily, six, when the adder slithered into action.
Megan spotted the reptile on her dad's fishing rod during the day out in the Cheviot Hills, just over the Border in Northumberland, and raised the alarm.
But freelance photographer Gordon, 43, of Linlithgow, West Lothian, thought at first she was pulling his leg.
He said: "I didn't believe her, but sure enough there was an adder coiled around one of the rods.
"I've seen a couple of adders in the wild before but this was the biggest I have seen.
"We used a piece of cheese as bait and that probably attracted it.
"We had a bit of fun watching the snake flashing its fangs before it slithered down a hole in the embankment."
The adder is Britain's only poisonous snake but the reptiles usually keep away from humans and are reluctant to attack.