Rangers fans dressed as superheroes admit assaulting rival fans on train
The men, dressed as Spider-man, Batman and 'pimpman' hurled sectarian abuse at passengers and broke one man's nose.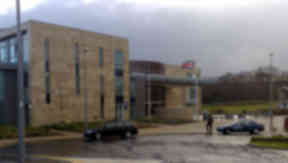 Three drunken Rangers fans dressed as superheroes started a fight with rival football fans on a train from Edinburgh to Dunblane, a court heard.
Two of the men hurled sectarian abuse at other passengers, a court heard on Thursday. A third hurled a Buckfast bottle at a man wearing a Hibs jersey, breaking his nose and fracturing his eye socket.
Darren Kelly, Michael McGookin and Gary Miller were dressed as Spider-man, Batman and "pimpman" during the incident.
The trio, from Fallin in Stirlingshire, pleaded guilty to indictment charges following from the violent incident on the Edinburgh Waverley to Dunblane train on October 31, 2009.
Kelly, 27, admitted culpably and recklessly throwing the bottle which injured Hibs fan Stephen Millar.
The Crown accepted that he had not been involved in making sectarian remarks or showing religious prejudice.
McGookin, 25, and Miller, 25, both admitted committing a breach of the peace by acting together in a disorderly manner, engaging in a fight and repeatedly uttering sectarian remarks.
They narrowly escaped being sent to prison when they appeared for sentence at Livingston Sheriff Court.
Baby's birth
The court heard the men had not been at a football match but been out drinking in the capital to celebrate the birth of Miller's child.
John Barclay, prosecuting, said the victim of the assault had boarded the train with his 15-year-old son and two friends aged 45 and 47.
They had all been at the Hibs match in Edinburgh earlier that day and Mr Millar was wearing his Hibs strip.
Mr Barclay said they went into the first carriage and sat down at a table next to five young men in fancy dress. The four started playing cards but were disturbed by the behaviour of the men at the next table.
He said: "The guys were extremely drunk and loud. They were drinking bottles of beer and singing Rangers songs.
"They directed abuse at the table where the complainers were sitting and made sectarian comments."
Mr Millar responded by saying he did not want any trouble, adding that he "didn't even support Celtic".
"It was at that stage he was struck on the left hand side of the face by an unknown person. The son leapt to his father's aid but others directed punches at him.
"Kelly threw the Buckfast bottle which hit the complainer on the forehead."
Some passengers took the injured father to a safe location at the end of the carriage while others cleared a space around the accused. Police were then called.
Lawyers for all three accused said they had been on a night out in Edinburgh and were "very, very drunk" at the time of the incident.
Sheriff Graeme Fleming sentenced Kelly to 220 hours Community Service work for his part in the incident. McGookin was put on probation for a year and ordered to carry out 160 hours of unpaid work in the community.
Miller was also placed on probation and sentenced to 80 hours of unpaid work.