Independent body to examine national housing priorities and problems
Housing and Wellbeing Commission to take 'fundamental look' at housing policy before next elections.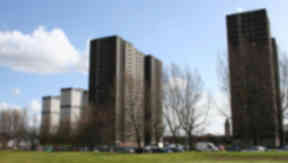 An independent body is being established to take a "fundamental look" at housing policy before the next Holyrood and Westminster elections.
The Housing and Wellbeing Commission, set up with the support of charity Shelter Scotland, is being chaired by Robert Black, the former Auditor General of Scotland.
The commission, made up of eight members from a variety of organisations, aims to improve Scotland's wellbeing through better housing, amid claims the housing system is suffering from decades of underinvestment and there is a need for "fresh thinking" on the issue.
Those behind the project said it comes at a time when there is a "serious lack" of affordable housing and poor quality housing continues to damage the health and life chances of many people.
Speaking before Wednesday's launch, Mr Black said: "Despite research showing that having a safe and secure home is a number one priority for people in Scotland, too many people still go without a secure and affordable place they can call home.
"With 39,000 homeless households last year and 155,100 people on council waiting lists, Scotland is still blighted by extreme health and education inequalities and poverty.
"Scotland must not lose sight of how important housing is to the wellbeing of everyone that lives here. Poor housing can have a significant impact on health, education, employability and life chances.
"Shelter Scotland has invited me to chair an independent commission of respected, experienced and influential people to take a fundamental look at housing policy in Scotland and to consider what needs to change to enhance the wellbeing of people living in Scotland."
The commission will gather research and consult with a broad range of organisations over the coming months, including community groups, housing providers and other relevant parties.
It will present a report reviewing national housing priorities and policies before the next parliamentary elections.
Mr Black said: "Although the commission is sponsored by Shelter Scotland, we will bring our own independent perspective on housing in Scotland, and we hope we can make a contribution to fresh thinking about Scotland's housing policy in advance of the next cycle of Scottish and UK elections."