Asdagate: Alex Salmond and Iain Gray accused of 'hiding' from each other during supermarket visit
Labour and SNP clash over unplanned encounter between two party leaders at Ardrossan supermarket.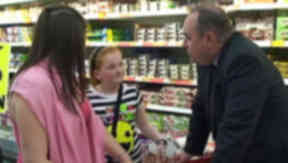 Iain Gray and Alex Salmond have accused each other of hiding and running away during a visit to an Ardrossan supermarket.
Scottish Labour claimed that Mr Salmond "hid" from Iain Gray when the two leaders found themselves in the same supermarket on Tuesday night.
However, the SNP said that Labour's claims were "desperate" and that the situation unfolded very differently. An SNP candidate said that Mr Gray "turned tail" rather than face the First Minister.
Labour claims that Mr Gray's campaign team had stopped at an Asda branch in Ardrossan when they realised the First Minister was holding a photoshoot in the store.
According to the SNP, Mr Gray made a "fleeting appearance" at the supermarket before leaving, and there was no disruption to Mr Salmond's visit. But Labour claims that SNP staff kept the First Minister "shielded" from Mr Gray when the Labour leader arrived.
Scottish Labour candidate for Cunninghame North Allan Wilson said: "When Iain Gray and his aides walked in to the supermarket, a terrified SNP press offer ran up to ask them what they were doing and followed them to the toilet.
"The press officer claimed he was on a visit with local SNP candidate Kenny Gibson and demanded to know why Iain Gray had stopped by the supermarket.
"It was hilarious. The SNP staffers were behaving like they were extras in The Thick Of It. It seemed pretty odd, but afterwards we found out that Alex Salmond was in same supermarket and had been ushered up the aisles to avoid an encounter with Iain Gray.
"The SNP are paranoid about this type of incident. That is why they hired security guards to police their manifesto launch and why Alex Salmond flew in and out of Ayrshire in a helicopter.
"By contrast, Iain spent time speaking to local voters face to face in a public meeting to actually hear their views."
Fantasy
Mr Gray added: "If I'd have known Alex Salmond was there, I'd have gone up and asked him why he is hiding his date for an independence referendum. Sadly he was kept well hidden until I'd left."
SNP candidate for Cunninghame North Kenneth Gibson said that Labour had its facts wrong, and that the First Minister saw "neither hide nor hair" of Iain Gray.
He said: "This is appalling desperation from Labour. The Labour campaign in in total fantasy land.
"Alex Salmond was on a scheduled campaign visit to the Asda in Ardrossan, where he and I met with shoppers and staff for 40 minutes. The media were there, and umpteen press photographs filed.
"There was neither hide nor hair of Iain Gray when Alex arrived and he stayed long after Iain Gray's fleeting appearance talking to staff and customers.
"Iain Gray turned tail just like he ran away from the Glasgow grannies at Central Station.
"It's a shame Iain Gray is getting so desperate he feels he 'asda' make it up."
The SNP later responded to video footage which the party says exposes Labour's claims as "complete fiction". The video shows Mr Gray leaving the store as an onlooker asks him: "Are you not going to hang about?"
SNP Campaign manager Angus Robertson said: "This footage makes an absolute mockery of the claims in a Labour press release issued this morning and raises serious questions about the negativity, dirty tricks and misinformation at the heart of Labour's 're-launched' campaign."
Following the exchange, Scottish Conservative Campaign Manager David McLetchie said: "This is pathetic stuff. Whilst Labour and the SNP play their infantile game of hide and seek, and Alex Salmond and Iain Gray squabble like two spoilt schoolboys, Annabel and the Scottish Conservatives will carry on talking common sense to voters about the issues that really matter."