University staff to strike in protest over 'miserly' pay offer
Campuses across Scotland will be picketed in a day of action on Thursday.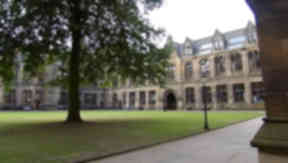 Staff at Scottish universities will strike on Thursday in protest at a "miserly" pay offer from bosses.
The walk-out is the first industrial dispute over pay in universities for seven years, and will see classes cancelled in every Scottish university except the University of the Highlands and Islands, which negotiates pay separately.
Staff will be on picket lines from 8am in a co-ordinated day of action involving three unions and campuses across Scotland.
Rallies will also be held at Bristo Square in Edinburgh and on Glasgow's Bath Street at noon.
The University and College Union (UCU), UNISON and Unite all said they were disappointed employers had made "no effort" to come back to the negotiating table for talks after a 1% pay rise - branded "miserly" by the unions - was rejected.
In a joint statement, the unions said: "University staff have faced a real-terms pay cut of 13% since 2008 – a situation recently described as one of the most sustained suppressions of pay since the Second World War."
Mike McConnell, a representative of UCU in Aberdeen, said: "Staff are angry they've had to endure large pay cuts in recent years. This year's below-inflation offer of 1% at a time of rising bills and increased pension contributions is the last straw.
"Staff love their jobs, but their goodwill cannot continue to be taken for granted. We are disappointed the employers are still refusing to negotiate with us to try and resolve this without any need for disruption. There is not much time left now, but our offer of talks remains open."