Former Rangers player Fernando Ricksen has Motor Neurone Disease
Thirty-seven-year-old footballer reveals he has incurable disease to Dutch media.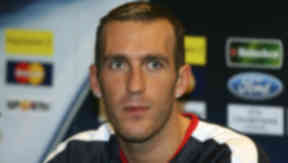 Former Rangers player Fernando Ricksen has been diagnosed with Motor Neurone Disease (MND), according to Dutch media reports.
The Dutchman, who played for the Ibrox side from 2000 to 2006, broke the news on Wednesday ahead of the publication of his autobiography, Vechtlust or Fighting Spirit.
The 37-year-old revealed on a Dutch talk show that he was diagnosed with the incurable disease a month ago.
Ricksen struggled to speak in an interview on Nederland 3's The World Keeps Turning. He said: "I find it difficult to talk because I've got ALS [Motor neurone disease]."
His biographer Vincent de Vries stepped in and explained: "Fernando has been diagnosed with a muscle disease, ALS. He's going to hospital tomorrow to discuss the diagnosis in detail with the hospital and the doctors."
MNDs are a group of neurological disorders that affect the cells that control voluntary muscle activity including speaking, walking, swallowing, and general movement of the body.
The disease is progressive and can cause increasingly debilitating disability and, eventually, death.
Rangers were unable to confirm the reports.