Goose goes on 900-mile gander as it swaps Galloway for Galicia
Wildlife Orange CBZ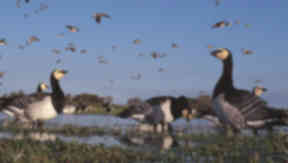 A wayward goose sparked a European goose chase when it failed to turn up in Scotland for winter.
Orange CBZ, a barnacle goose, was knocked 900 miles off course on his way from the Arctic to the Dumfriesshire wetlands where he is accustomed to pass the winter.
It is the furthest south that the cold-loving species has ever been recorded, and it means the hardy bird travelled a whopping 2,900 miles for his summer holiday.
Around 30,000 of the distinctive monochrome birds migrate annually from Norway's Svalbard to wetlands in Dumfriesshire, Scotland, when arctic temperature become too chilly.
Orange CBZ had safely made the journey for six years running but when he failed to appear this year, staff at the Wildlife and Wetlands Trust who look after the site feared the worst.
But they were contacted by birdwatcher Emilio Martinez, who spotted the wayward goose enjoying the sunshine on the Rouxique marshes near Vigo, on northwest Spain's Atlantic coast.
He matched the bird to the centre in Scotland using a code on his leg ring, on Monday.
WWT species research officer Dr Larry Griffin said: "We're gobsmacked.
"Barnacle geese have a tough life facing extreme weather and food scarcity so we had started to assume this one hadn't made it.
"To find out he's actually made a record journey south and been sunning himself in Spain is amazing.
"By ringing the wild birds under our protection, we can find out where they go and where they might need further protection.
"We're hugely indebted to birdwatchers like Emilio who record the leg rings they spot and let us know where the birds have got to.
"It's possible that Orange CBZ was disoriented by the recent bad weather. He'll need to rest and feed himself up after such a long journey. Once he leaves Spain, we'll be keeping a special eye out to see if he returns to the Costa del Solway."