Orphaned otters found hiding under wheelie bin after dog chase
Thurso and Surf were found looking for their mother on the beach at the north of Scotland.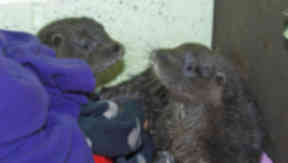 A pair of orphaned otter cubs were found hiding under a wheelie bin after being chased by dogs.
The ten-week-old male otters were discovered looking for their mother on Thurso beach on Saturday. They were scared off by two dogs and ran into a nearby garden.
When the Scottish SPCA arrived, the brothers were found huddled under the bin.
The cubs, who have been named Thurso and Surf, are now being looked after at the National Wildlife Rescue Centre in Clackmannanshire.
Senior Inspector Audrey Gunn said: "Thurso and Surf were camouflaged next to a brown bin and were hard to spot at first glance.
"I collected my equipment from my van and when I came back I thought they had disappeared. However, on closer inspection, I realised they had managed to squeeze themselves under the wheelie bin, with only their back ends noticeable.
"Thurso and Surf were timid but curious and I paid a visit to the local fish shop to make sure they were well fed.
"They were lucky to be found as otters are dependent on their mothers until they're around a year old and they wouldn't have been able to survive on their own."
The cubs are recovering at the centre and will be released back into the wild in a year's time.