Lego artist recreates world's most iconic buildings and scenes
Warren Elsmore is putting 72 replicas on display in Paisley Museum.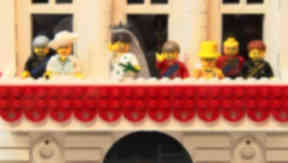 A Lego enthusiast has created replicas of some of the world's most iconic buildings and scenes.
Warren Elsmore, from Edinburgh, describes himself as a Lego artist and has made models of Buckingham Palace, the Olympic Park, the Bolshoi Ballet, the Rio Carnival, a Georgian Edinburgh street and the Forth Railway Bridge.
The 36-year-old is opening his Brick City show at Paisley Museum in Renfrewshire on Friday.
It will feature 72 Lego replicas and includes a centrepiece model of St Pancras Station in London, which consists of around 150,000 bricks.
Mr Elsmore, who gave up his job in IT to become a full-time Lego builder, said: "It's an exhibition of models from my book Brick City and includes some of the most famous landmarks from around the world. It's the first show of my UK tour.
"I just hope people enjoy seeing the pieces and that they get some inspiration from them."
He added: "My full-time job is playing with Lego. I tell people I'm an artist with Lego bricks - it's quite unusual and sometimes hard to describe.
"Building different things is something I've been doing for many years and now I'm lucky enough to do commissioned work for a number of customers. It's my dream job -- I get do what I like, build whatever I want and I even make a living from it.
"There are no particular rules when you want to build something from Lego. It's flexible and you can let your imagination go wild."
Craig Elliot, from Renfrewshire Museums, revealed visitors to the exhibition would have the chance to construct their own artwork from Lego.
He added: "We are hoping it's going to be extremely popular. It's not just going to be about looking. There will be a hands-on section of the exhibition where they can make something of their own, or contribute to making a local landmark or a mosaic of a Paisley pattern."