Help ma boab: Wullie's holiday picture could fetch £3500 at auction this week
An oil painting of Scottish cartoon favourite Oor Wullie will go under the hammer on Thursday.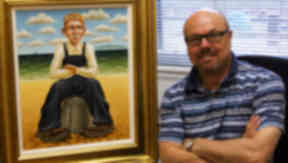 An artist's impression of Scottish cartoon icon Oor Wullie is to be auctioned this week.
Graham McKean, who is based in Irvine, finished his oil painting of the comic-strip star, sitting on his trademark bucket, a few weeks ago.
The work, entitled Oor Wullie, Your Wullie, A Holiday Wullie, has been valued at between £2500 and £3500.
Oor Wullie first appeared in the Sunday Post newspaper in 1936, making this year his 75th anniversary.
Mr McKean, 48, said: "I didn't create it specifically for the 75th birthday but the anniversary must have been at the back of my mind when I was painting.
"I have painted many famous people over the years but I wanted to do a real Scottish icon this time, and that was when I thought of Wullie.
"Like many Scottish youngsters, I grew up reading Oor Wullie and The Broons, although when I was deciding where to set the piece I decided to take him away from Dundee and put him in a location closer to my own home.
"I like the idea that he's come down to Ayrshire for his holidays."
He said the painting was not an exact copy but his own interpretation of the character.
The painting is expected to be sold at McTear's Auctioneers' Fine, Scottish and Contemporary Pictures Sale in Glasgow on Thursday evening.