Alistair Carmichael faces Nicola Sturgeon in Scotland Tonight debate
STV announces week of special programming as independence white paper released before referendum.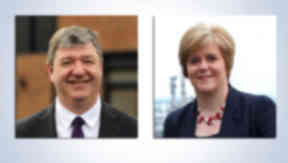 STV will broadcast its third major debate on the independence referendum, with Nicola Sturgeon facing Alistair Carmichael following the publication of the White Paper on independence.
The hour-long Scotland Tonight Referendum Special will see the Deputy First Minister take on the Secretary of State for Scotland to debate Scotland's constitutional future from 10.55pm on Wednesday November 27 - the day after the White Paper is published. The programme will be hosted by John MacKay and Rona Dougall and include live reaction from political experts and viewers via social media.
The third head-to-head in STV's series of dedicated referendum debates is part of three special Scotland Tonight programmes focusing on the publication of the White Paper.
On Tuesday November 26, an hour-long special presented by John MacKay will bring expert coverage and analysis of the Scottish Government's much anticipated White Paper on Scottish independence.
Following Wednesday's live debate, Scotland Tonight's Thursday programme will also focus on the White Paper with further analysis and an online interactive discussion including views from leading opinion formers, commentators and celebrities.
Tuesday and Thursday programmes will be on air for one hour from 10.30pm. Wednesday's debate will be broadcast from 10.55pm.
Gordon Macmillan, Head of News at STV, said: "At key milestones in the independence referendum STV is bringing viewers all the latest news, analysis and opinions. The Scotland Tonight referendum specials have proved to be a successful format with engaging discussions and participation from our audience and we anticipate a lively debate between Deputy First Minister Nicola Sturgeon and Secretary of State for Scotland Alistair Carmichael on Wednesday, November 27."
STV is providing the platform for the debate ahead of the independence referendum in 2014, including a debating competition for young Scots. The Referendum Schools Debate is a partnership between STV and Debating Matters to give secondary school pupils from all 32 local authority areas the opportunity to research and discuss issues which will affect the future of Scotland
All the programmes will be streamed live on www.stv.tv/scotlandtonight and will be available for catch-up on the STV Player.