Cyclist thrown from bike by washing line strung across cycle path
The wire was strung across the path in the Davidsons Mains area of Edinburgh on Monday.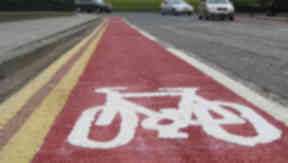 A head-high wire was strung across a busy cycle path, leaving a cyclist "bleeding and dazed".
The victim, in his early 50s, suffered cuts to his nose and cheek as he was thrown from his bike on the path in Edinburgh.
Witnesses who went to his aid said he was lucky not to have been more seriously injured by the rigid nylon clothes line.
A fellow cyclist skidded to avoid a second wire, tied to fence posts just above ground level nearby.
Alex Robertson, 27, whose girlfriend narrowly escaped injury said it was "the equivalent of attempted murder".
He said: "They are putting up something that could easily kill someone. It's shocking. The man was bleeding and clearly shaken up by it. I imagine he's been put off cycling and that's on a path where they're meant to be safe.
"I'm pretty angry at whoever's done this. If my girlfriend hadn't stopped in time, she would have gone flying and who knows the damage it could have caused."
Logs and branches had been strewn across the lane in an attempt to distract riders from the danger at eye-level.
The Davidsons Mains route, known locally as Roseburn path, was busy at the time of the incident at around 6.30pm on Monday night but there was no sign of the perpetrators.
Mr Roberton's girlfriend, who did not want to be named, said: "I saw the low level one and skidded to a stop. I had a look around and wondered what the hell was going on. I got off my bike to take it down and was looking at the knots when I caught a glimpse of the man who had come off.
"I shouted out to him to see if he was okay and walked over. He had lost his glasses and was quite dazed and confused. He said he was cycling and saw the logs. Then he saw the rope at the last second and turned his head before it got him. He had a nasty cut on his nose and his cheek.
"As we were taking them down, both of us were wondering if there was anyone watching us. It was a little horrifying to be honest."
The 27-year-old reported it to the police and wanted to warn other cyclists about the ploy. She said she would not let it put her off cycling but said she would be "very cautious" in future.
Ian Maxwell, of cycle group Spokes, said: "This is a horrible incident. Similar things have happened on the path network before and the police have targeted the relevant area. But he said people should not be deterred from cycling. The busier the paths are, the less likely it is to happen."
Police confirmed they are investigating the incident and asked anyone with any information to contact Police Scotland on 101.