STV committed to future of Taggart despite losing ITV commission
Long-running Scottish police drama not being recommissioned by ITV.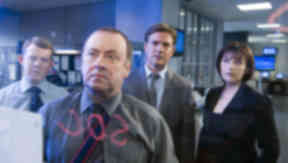 Taggart, STV's long-running police drama, is not being recommissioned by ITV, the broadcaster has confirmed.
An ITV spokesman said: "We have decided not to commission any further series of Taggart for the ITV network.
"Since it was first broadcast in 1983, Taggart has been one of ITV's most enduring dramas but, reflecting the demands of our audience and as part of the ongoing creative renewal of the ITV1 schedule, our priority is to invest in new and original drama for the channel.
"ITV1 broadcast five out of the top 10 new dramas on any channel last year, including the most popular new drama in over five years, Downton Abbey.
"A broad range of new drama series premiering on ITV1 over 2011 includes Marchlands, Vera, Kidnap and Ransom, Monroe, Injustice, Scott & Bailey, The Jury and DCI Banks."
However, the move does not necessarily mean the end for the hit drama. STV is now in discussion with other broadcasters to secure the future of the programme.
Previously ITV had delayed re-commissioning Taggart and STV was considering alternative options, all of which were financially viable.
An STV spokesperson said: "STV is exploring a range of options for Taggart with a number of broadcasters. We are committed to the brand and recognise the continuing popularity of this long-running series."
The series has brought Glasgow's dark side to life since September 1983 and although original protagonist Jim Taggart - played by the late Mark McManus - is still seen as the city's greatest fictional law enforcer, DCI Matt Burke has built up a steady legion of fans – as well as enemies – since entering the show back in 2001.
The series - the world's longest running TV police drama - has also featured appearances by some of Scotland's best-known on-screen talent over the years.
The most recent series of Taggart was shown exclusively in Scotland in October 2010, and in the rest of the UK early in 2011. It was the first time the series had been co-produced by STV with ITV, as previously it had been commissioned by ITV.
Taggart star John Michie has recently joined the cast of Coronation Street.
STV and ITV recently settled a number of legal disputes over programming and new media rights, with both companies agreeing a "collaborative relationship" for the future.
The decision by ITV was a commissioning decision and was not related to the settlement between the two broadcasters.
IN DETAIL