Three closure-threatened libraries to stay open says Moray Council
Burghead, Cullen and Dufftown libraries to stay open after campaign group's legal challenge.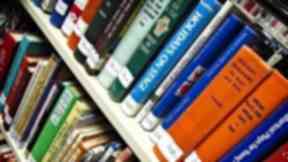 Three of the seven libraries due to be closed by Moray Council later this month have been saved after a legal challenge.
Campaigners claimed that closing facilities at Burghead, Cullen and Dufftown would impact on vulnerable people.
The Save Our Libraries Moray group sought a judicial review at the Court of Session over the local authority's decision to shut seven libraries as well as a mobile library to save around £375,000 a year.
The local authority still plans to close four libraries in Findochty, Hopeman, Portknockie and Rothes.
On Monday, Moray Council released a statement saying that lengthy legal action would not be in the best interests of residents and it would seek to retain three of the seven libraries threatened with closure.
However, the campaign group believes councillors will accept during a debate on Wednesday that their decision was "completely wrong" and so accept a motion that all seven libraries remain open.
The SNP's opposition spokesperson on education in Moray Council, Councillor Mike Shand, responded to what his party called council's leader Allan Wright's "major climbdown".
"To hear that The Moray Council's so-called Independent and Tory administration have been dragged kicking and screaming back to the position they were in two months ago is a shocking indictment of their failure to support the clearly stated priorities of their communities," he said.
"It is abundantly clear that the campaigners strength of purpose and unity have brought the administration to this position. The SNP are absolutely committed to the case that all seven libraries should remain open and we will make that argument very strongly on Wednesday."
Moray's MSP Richard Lochhead MSP said: "This is a major climbdown by The Moray Council's administration but it still does not go nearly far enough. There is a strong case that all seven of the libraries under threat should remain open and my SNP colleagues in the Council's opposition have my full backing on making that case."
Chairman of the Save our Libraries Moray campaign, Alistair Jeffs, said: "We are pleased to learn that after months of saying that there was no way they would change their minds the Administration has now accepted that mistakes were made in their decision to close libraries in Moray.
"However, our fight has always been for the retention of the entire library service and we have demonstrated many clear reasons why that should be their decision.
"Even now it is not too late for them to do that - we would hope that the opposition motion to retain all libraries receives sufficient support from Independent councillors on Wednesday. We will review the actual decision when it is taken on Wednesday and seek further legal advice if that is required."