'Currency union wouldn't work for Scotland or UK' says Carmichael
'Pound is as much Scotland's as it is the rest of the UK's' Sturgeon tells Scottish Secretary.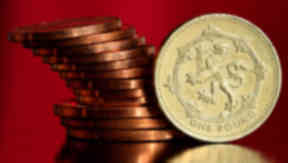 A sterling currency union "wouldn't work" under independence, according to the Scottish Secretary.
Alistair Carmichael said any such arrangement in the wake of a Yes vote would not work for Scotland or the rest of the UK.
Independence is about "political disintegration", not integration, he said, as he called on Nationalists to reveal their "plan B" for the currency of an independent Scotland.
His intervention comes just days after the Welsh First Minister, Carwyn Jones, said he was not convinced that the Scottish Government's ambition for a shared currency if Scotland voted Yes in next year's referendum would work.
Mr Carmichael was speaking on the day the Scottish Government announced that Scotland could become an independent country on March 24 2016 if voters back leaving the UK in September's vote.
The date is included in the Holyrood administration's white paper, described as a "blueprint" for independence, which will be published on Tuesday.
Mr Carmichael was speaking on The Andrew Marr Show on BBC One.
Asked whether Westminster would refuse to allow the Scots to use the pound, the Scottish Secretary said: "Public international law is very clear on this, that if you remove yourself from the United Kingdom then you would remove yourself from all sorts of institutions and, yes, the pound would be one of them."
A currency union would lead to a situation where the UK would be asked to be a guarantor for banks over which it had no control and it would see Scotland "handing over control" of their interest rates and borrowing levels to the rest of the UK, he said.
Mr Carmichael told the programme: "The fact is that a currency union wouldn't work. It wouldn't work for Scotland, it wouldn't work for the rest of the United Kingdom.
Difficulty
"If you look at what happens in the eurozone and you learn in fact that the currency union there runs into difficulty because it doesn't have the fiscal, the economic or the political integration.
"Independence is about political disintegration, it's not about integration."
He suggested First Minister Alex Salmond and pro-independence campaigners will have questions to answer on currency on Tuesday.
"In these circumstances surely you should be telling the people of Scotland what your plan B is going to be. That's what we will be looking for," he said.
Mr Carmichael questioned why either Scotland or the UK would agree to a currency union.
He told Pienaar's Politics on BBC Radio 5 Live: "Of course you can come to arrangements. The question is why would you?
"You would be asking the rest of the UK to take on liability for banks and other things that they would no longer have any control over and at the same time you would be asking an independent Scotland, or supposedly independent Scotland, to hand over control over their interest rates, their borrowing levels and things of that sort to the rest of the UK.
"Currency unions are very difficult, look no further than the eurozone to know the truth of that. They can only really be made to work if you have fiscal, political and economic integration. Independence is about the very opposite of that, it's all about political disintegration."
He also suggested that Scotland may have difficulties applying for EU membership, with potential opposition from states such as Spain and Belgium which have their own internal tensions with separatist campaigns.
"Spain and Belgium to a lesser extent have got a lot of similar internal tensions within their own borders. I can't for the life of me see why a country like Spain is going to make it look easy for a country like Scotland which has seceded from a member state then to walk back in through the door.
Challenging
"That is going to be a very challenging negotiation."
Ms Sturgeon said on Sunday she is "exceptionally confident" about the Scottish Government's stance on sterling and insisted a currency union would be in the best interests of Scotland and the rest of the UK.
"We want to be in, and believe we will be part of, a shared currency," she said.
The Deputy First Minister told BBC Scotland: "Let me give you the three reasons why I am exceptionally confident about the position around a shared currency.
"Firstly, Scotland's is the second biggest export market for the rest of the UK after the United States of America. It would not be in the interests of a Westminster government to force its businesses into a separate currency when Scotland doesn't want to be in a separate currency.
"Secondly, our exports — oil, gas, whisky — make a substantial contribution to the UK's balance of payments. They will not want to lose that.
"Thirdly, this issue about assets and liabilities has to be taken as two sides of the same coin. The pound is as much Scotland's as it is the rest of the UK's. If the UK Government wants Scotland to take responsibility for a share of its debt then it also has to accept the sharing of assets as well."
Ms Sturgeon told Sunday Politics Scotland: "My point is that we will be in a currency union because it's in the best interests of Scotland and the best interests of the UK."
She added that Scottish ministers do not favour going into the euro and stressed that an independent Scotland could not be forced to join that currency.
On the forthcoming white paper, she told the show: "This is going to be the most comprehensive, detailed, well-researched prospectus for the independence of a country that has ever been published.
"More than answering questions, it will set the agenda for the remainder of the campaign. It is a positive vision for what an independent Scotland can achieve. My message to the No campaign is where is your equivalent, where is the case for staying with the Westminster system of government?
Momentum
"Tuesday is the moment project fear comes head to head with project hope and I think the momentum and the dynamic of the campaign is going to change decisively."
SNP MP Stewart Hosie, the party's Treasury spokesman in Westminster, told the programme that refusing to allow Scotland to use sterling would "shred" the currency.
He said: "The UK, or sterling zone, balance of trade deficit right now is £35bn a year. Scottish oil and gas exports are £30bn.
"That would effectively double the sterling zone trade imbalance and shred the currency. That would be really silly."
Imposing barriers to trade with Scotland would "destroy at least tens of thousands of English jobs", he said. "That's just bonkers."
Former chancellor Alistair Darling, chair of the Better Together group, said a currency union was looking like a "non-starter" as he too called for nationalists to explain their "plan B" on currency.
He told the Murnaghan programme on Sky News: "One of the questions which is absolutely critical is which currency will we use?
"They say that they are going to enter into a currency union with the rest of the UK. That requires two things, firstly agreement from the other side and secondly agreement to the terms and conditions as we see in the eurozone, for example.
"It's increasingly obvious that this currency union is beginning to look like a non-starter so if that's the case... what is plan B? Are we going to join the euro, are we going to have our own currency or are we going to use sterling in the same way as Panama or Ecuador use the US dollar?
Negative
"We need to know the answers to these things. It is not being negative, it is simply asking the nationalists to come clean as to what their true plans are."
He went on: "They say they want a eurozone-style currency union, a legally binding straightjacket. Why on Earth would Scotland, never mind the rest of the UK, want to enter into something like this? Whatever else it is, that's not independence.
"Interestingly, today in Scotland you've got nationalist supporters beginning to say, 'Look, this isn't independence, we don't want any part of it'."
A Scottish Government spokeswoman said: "As the Fiscal Commission Working Group — which includes two Nobel Prize winners — has made clear, it is in the best interests of the rest of the UK for Scotland to retain sterling, in a currency union.
"In part due to the valuable contribution Scotland makes to sterling and the UK's balance of payments but also in the interests of businesses in the rest of the UK for whom Scotland is their second largest export market.
"With independence, Scotland will have the full range of economic tools we need to target all of our efforts and resources at increasing investment, boosting long term job opportunities and creating a more prosperous Scotland."