Government spending cuts 'creating more divided society' says study
West of Scotland suffering more than east, according to the Joseph Rowntree Foundation report.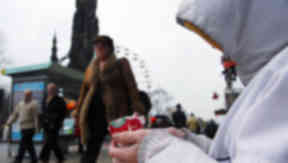 Government spending cuts are creating a more divided society by leaving councils in the poorest parts of Scotland and England around £100 worse off per person than the richest ones, research has found.
The west of Scotland is suffering more than the east, according to the Joseph Rowntree Foundation (JRF) report.
The divide was confirmed by separate research by a public spending watchdog which found that almost half (49%) of councils covering the 20% most deprived areas faced cuts of more than 15% in 2013/14 compared with 2010/11.
Fewer than one in ten local authorities (8%) in the best-off areas suffered reductions on such a scale, the Audit Commission said.
Local government spending — excluding police, schools and housing benefit — is set to fall by nearly 30% in real terms between 2008 and 2015 in England and 24% in Scotland, the interim JRF report, Coping with cuts? Local government and poorer communities, said.
Researchers warned there is a danger that cash-strapped councils will end up serving only the neediest fraction of the population while wider services are cut.
"As a result, the willingness of those who do not rely on council services for the majority of their needs to pay for council services relied on almost exclusively by the poor could be undermined," the report adds.
John Low, JRF policy and research manager, said: "As we approach the fourth austerity settlement for local government in December, it is clear the cuts are biting deep into the poorest and most deprived communities.
"Unless we can muster the national will to correct or mitigate the unacceptable divergence of resources between more and less affluent authorities, we are slowly but inexorably creating a more divided society."
Researchers analysed the scale and pattern of spending cuts in spending in English and Scottish local government since the coalition took power and carried out an in-depth study of the way a group of English councils — Newcastle, Coventry and Milton Keynes — were dealing with smaller budgets.
Across the three, the study found explicit attempts had been made to protect services used by the public, with most of the budget cuts made through back office costs, saving nearly £110m.
But areas where administration savings can be made across local government are "rapidly diminishing" and people will be expected to do more for themselves, such as running leisure centres, caring for elderly neighbours and picking up litter, the report said.
Annette Hastings, one of the report's authors, said: "The changes under way within local government should not be underestimated. They will have significant consequences for the broad range of ordinary people who use local public services.
"If budget cuts continue at the levels anticipated, all but the most vulnerable will be expected to do more for themselves and to supplement state services with commercial alternatives.
"While the most vulnerable have been protected thus far from the worst effects of budget cuts, it is not clear how long this can continue.
"And we might also be concerned about how the people who just miss out when resources are refocused can cope with service reductions — we could be storing up problems for the future, for them and for society more generally."
The Audit Commission's Tough Times report found town halls had shown "a high degree of financial resilience" despite the significant cuts in central government funding — with 63% able to add to their reserves last year.
But a survey of auditors appointed by the Commission said 29% of councils faced "significant difficulties" in balancing the books, including having to take "unplanned actions" to further reduce spending.
And the ability of one in ten to stick to agreed budgets was in doubt, it said, with the medium-term prospects of 36% also a cause for concern.
Commission chairman Jeremy Newman said it would be increasingly difficult to avoid cuts to social services.
"As social care accounts for an increasing proportion of councils' total service spending, it will be harder to protect this service from spending reductions in the future."
Mr Newman also issued a warning over the future monitoring of the impact of funding cuts when the Commission itself is shut down as part of the Government's own cost-cutting drive.
"With less income, councils continue to face risks to meet their legal obligations and the needs of their local communities," he said.
"When the Audit Commission has closed down, it will be for the government and others to find alternative ways to bring together auditors' insights into the finances of English councils and to keep watch for signs of financial stress.'
Rob Whiteman, chief executive of the Chartered Institute of Public Finance and Accountacy (Cipfa) said: "Cipfa is clear that the Government must act now to stop the political see-saw of the local government funding settlement and we are again calling for the establishment of a genuinely independent grants commission.
"We need to take the politics out of local government funding and such a commission would ensure funding is allocated on need."
"The Government has now dismantled much of the system designed to improve council performance, such as the Audit Commission and Standards Board.
"While it is good that nine out of 10 councils are functioning well, we need to keep a keen eye on the one in 10 that are not, and make sure they are getting the support they need. It would be damaging to all authorities' reputations if some councils were to fail."
Local Government Minister Brandon Lewis said: "The economy is now in recovery and more job opportunities are being created.
"Councils are successfully managing their budgets, public satisfaction with council services has increased and council tax bills are falling in real terms.
"This Government's carefully-considered reforms have delivered a fair deal to councils helping them achieve greater financial independence so they can deliver sensible savings while protecting front-line services, which we have backed up with £3.8bn for crucial adult social care reform.
"However, there are many more ways for councils to save taxpayers' money and help tackle the deficit left inherited from the last administration."
Sir Merrick Cockell, chairman of the Local Government Association (LGA), said: "This report shows that councils have made a leading contribution to tackling the deficit and keeping the cost of living down but they can't be expected to perform miracles.
"We are only halfway through the cuts and already the auditors believe one in 10 councils are in financial trouble and more than a third face a decidedly shaky future. The LGA has consistently said that 2015/16 is shaping up as the crunch year for local services and this report vindicates that warning."
Shadow local government secretary Hilary Benn said: "This important report highlights the huge unfairness in the coalition's deep cuts to local government, with the most deprived areas seeing the deepest reductions in their funding.
"So far, local authorities have absorbed cuts by finding efficiencies, laying off staff, reducing senior pay and cutting back on some services, but this report highlights that many now face real financial difficulties and some are experiencing 'high financial stress'. Given that 57% of councils' non-education spending goes on looking after our elderly and our young, there is a real risk that statutory services will increasingly be hit."