Port worker falls to his death at Hunterston coal terminal
An investigation has been launched into the 38-year-old's death in Ayrshire.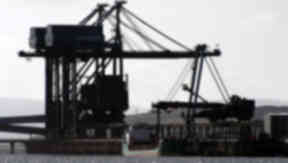 A port worker has fallen to his death at a coal terminal at Port of Hunterston.
The 38-year-old was killed in the accident at the Clydeport facility on Monday night.
He has not yet been named by police or the company.
The Health and Safety Executive (HSE) are investigating the circumstances surrounding his death.
A spokesman for Peel Ports, which operates the site said: "We are now co-operating fully with an investigation by the Health and Safety Executive.
"No further details are available at this time. Our deepest sympathy goes to the man's family and to his work colleagues."
A Police Scotland spokesman said: "We received a report that a 38-year-old man had died after falling within the coal terminal at Hunterston. Health and safety are currently conducting inquiries on the site."
The HSE said they were aware of the incident and were liaising with Police Scotland.