Children's views on contact with parents involved in abuse sought
'Contact between a parent and a child often becomes a very fraught and emotive issue.'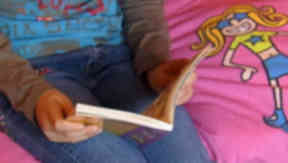 New research has uncovered "significant variations" in the weight attached to the views of children consulted in domestic abuse cases about the level of contact they would like to have with their parents.
A third of children in such circumstances ended up with a situation which bore no resemblance to the view they had expressed, while a fifth had their preferences only partially taken into account, the study found.
The research was commissioned by Scotland's Commissioner for Children and Young People, Tam Baillie, and conducted by Dr Kirsteen Mackay.
It considered the treatment of the views of 155 children from 97 Scottish cases in which a court was asked to rule on the level of contact between them and a parent against a backdrop of domestic abuse allegations.
Fifty-five percent of children whose parents went to court in contact disputes in such circumstances did not want any contact with the parent they did not live with. In most cases this meant they did not want to see their father, researchers found.
Some of the reasons given by children for not wanting any contact with their other parent were being hit and shouted at, feeling sad or frightened and parental alcohol abuse.
In Scotland, children's views in contact cases can be taken in writing through their own solicitor, by speaking to the sheriff or as part of a court report carried out by a lawyer or social worker. The older the children were, the more likely their views were to be taken, according to the study.
But even when children's views in contact cases involving domestic abuse are taken, there is "significant variation" in the weight attached to their views, the research found.
Some 34% of children had a "contact outcome" that bore no resemblance to the view they had expressed and 20% had an outcome that only partially accommodated their view.
The child's age and the attitude of the individual reporter to domestic abuse were found to be some of the factors affecting the weight attached to their views.
Mr Baillie voiced concerns about very young children in such cases.
He said: "Contact between a parent and a child often becomes a very fraught and emotive issue, never more so when there are also allegations of domestic abuse.
"While it is encouraging that the courts in Scotland do make efforts to gather the views of children in court disputes over contact, the majority of children in the cases examined in this report are very young [half aged six years or younger].
"They are therefore particularly vulnerable and require sensitive questioning to gauge their perspective.
"I am particularly concerned that it is these very young children that are the least likely to be spoken with and yet the most likely to still be having contact with a non-resident parent, despite the allegations of domestic abuse."
The report makes a number of recommendations, including that it should not be assumed that children will benefit from contact when there is evidence that the parent is domestically abusive. The methods for taking the views of children also need to be improved, the study said.
"Findings such as this — and others in the report — will help me to plan and commission future research into how children's views are taken and what improvements can be made in cases involving domestic abuse," Mr Baillie added.