Storm with gales of up to 142mph hits Scotland causing major disruption
The severe weather forced ScotRail to cancel all train services in Scotland on Thursday morning and forecasters are warning of snow and ice to come.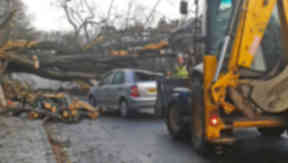 Severe gales of up to 142mph have battered Scotland causing major disruption to transport and services.
The weather brought treacherous conditions for motorists on Thursday morning, which included the closure of the Forth Road Bridge and the shutting down of the Scottish train network.
By mid-afternoon 19 flood alerts had been issued as a storm surge threatened the east coast at high tide, between 3pm and 4.30pm.
The rivers Ness and Dee burst their banks as torrential downpours swept across the north of the country, forcing police to close roads in both Inverness and Aberdeen.
And forecasters warned of further disruption overnight as temperatures plunged, bringing snow and ice to northern and western parts of the country.
The surge has already seen water coming inland along the Aberdeenshire coast, with the harbour at Gardenstown swamped with high waves.
Fife Council said staff were out at high risk locations at high tide with sand bags and water pumps and preparations made for rest centres in case residents need to be evacuated.
Earlier on Thursday a lorry driver died when his HGV was blown onto two cars in West Lothian. The incident occurred at the Boghead Roundabout in Bathgate at around 8.10am.
Energy firm SSE reported that around 39,000 homes across its area were without power on Thursday evening, including in the Highlands, Perthshire and Aberdeenshire. Scottish Power said it had 20,000 homes without power across the central belt because of debris brought down on lines in the stormy conditions while at least 150 schools across Scotland were forced to close due to weather-related issues.
Motorists were warned to watch out for snow and ice overnight as temperatures drop as low as minus 9C in parts of the Highlands.
Up to two inches of snow are expected to fall across the Northern and Western Isles, north-east, Highands and Argyll, with eight inches possible on higher ground.
Freezing conditions are also likely to make roads icy in central and western areas, as well as the Scottish Borders.
Overturned lorry blocking Friarton Bridge in Perth #scotstorm (pic from @trafficscotland) http://t.co/drF2RhNDfA pic.twitter.com/tdK3Lbizmi

— STV News (@STVNews) December 5, 2013
ScotRail suspended all train services from 8.45am until lunchtime because of the "huge amount of debris" blocking rail lines, while Glasgow Central station was evacuated when debris smashed a hole in the glass roof.
Network Rail said stray items on the line included "trampolines, hay bales and trees". Some services began running again by 2pm but ScotRail warned passengers to expect delays and disruption. The overnight sleeper from Fort William has been cancelled.
Glasgow Central Station was evacuated shortly after 8am after debris smashed glass on the roof of the structure. Network Rail Scotland said no one was hurt and staff are escorting arriving passengers out of the building.
The station reopened at around 1.15pm after engineers ensured the site was safe, Network Rail said. Trains were given the all clear to resume services on the Edinburgh to Glasgow line at 1.30pm after Network Rail had checked the route.
Damage to the glass roof at Glasgow Central station @NetworkRailGLC pic.twitter.com/bxLfgXRRwU

— Network Rail Scot (@NetworkRailSCOT) December 5, 2013
In Perth, the Friarton Bridge was shut at around 8am after a lorry overturned. At around 8.20am the Forth Road Bridge was closed amid the windy conditions, while operators stated on its official Twitter feed that a driver had "abandoned" a Luton van on the structure.
The Erskine Bridge reopened at about 5.30pm after being shut for most of the day. Restrictions were in place on the Kessock and Dornoch bridges for high-sided vehicles.
The M74 was blocked nearby at Happendon after a tree was brought down onto the road amid high winds before an articulated lorry was toppled on the road southbound close to Lesmahagow in South Lanarkshire at around 6am. At around 5am the A86 at Kinloch Laggan in Inverness-shire was also blocked by a fallen tree.
Two men were taken to hospital after being hit by falling trees. The first incident occurred in The Meadows, Edinburgh, at around 8am in which one man was injured while a car was struck by a falling tree in Quality Street in the city's Barnton area leaving one occupant injured.
Police closed all walkways and advised people to stay away from trees if walking across open parkland. Melville Drive in the area was also shut.
A lorry overturned on the M74 close to junction four, leading to the closure of the A725 Bellshill Bypass eastbound. In Hamilton's Bothwell Road a man was trapped in a taxi after it was struck by a tree. A woman was also injured in the incident and was taken to Hairmyres Hospital in East Kilbride for treatment.
At Straiton Retail Park near Edinburgh the roof of JJB Sports was blown off in the high winds, which lead to the closure of the facility. One person was injured when their jeep was struck by a falling tree on the A82 at Arrochar in Argyll, while huts for the annual Christmas market in Glasgow's St Enoch's Square were badly damaged in the ferocious wind.
The Met Office put in place amber severe weather warnings for large parts of the country, while a gust of 142mph was recorded at Aonach Mor at the Nevis Ski Centre at around 6am.
In Glasgow city centre the high winds blew and advertisement tarpaulin off a building onto Union Street below, creating a hazard for motorists. Dougie Craddock captured footage of the incident.
The Scottish Fire and Rescue Service in the east of the country said it responded to 63 incidents from 7am to 10am. Five of these incidents were road traffic collisions, two were trees on vehicles and 12 related dangerous structures.
Police Scotland advised motorists in the Lothians, Edinburgh, Borders, Fife and Forth Valley to wait until high winds subside.
In the Highlands, police said they had dealt with several weather-related incidents, including a fallen chimney in Inverness' Grant Street.
Traffic Scotland advised the public to avoid travelling on the A90, A94, A9, A93, A85 and A984 because of "trees and debris affecting parts of the routes." It also later advised motorists across the country to avoid driving during the peak of the storm.
The Tay Road Bridge between Dundee and Fife was closed to all vehicles at around 7am, while the Erskine Bridge was shut to all vehicles at around 8.25am. The Skye, Dornoch, Kessoch and Kincardine bridges were also shut to traffic for a period on Thursday amid the windy conditions.
Police said a van driver had been reported to the procurator fiscal after allegedly driving over the Forth Road Bridge when restrictions against all vehicles apart from cars were in place.
In Dundee the roof of an industrial unit was badly hit in Perrie Street, while the roof of the Bob Shankly stand at Dens Park, home to Dundee FC, was damaged in the storm.
Flooding caused by the downpour forced the closure of the A83 at Inverary in Argyll and Bute, while the A96 was closed in both directions at Huntly in Aberdeenshire. The A76 south of Kirkconnel because of a fallen electricity cable.
The A78 at Largs in North Ayrshire was forced to close because of the conditions, while the A75 at Glenluce in Dumfries and Galloway and the A82 at Drumnadrochit in the Highlands were also shut.
Glasgow Airport warned of possible delays or cancellations of flights because of the weather, while the Scottish Environment Protection Agency (Sepa) had 11 flood warnings and 13 flood alerts in place across the country.
Highland Council closed 36 schools across its area while Dumfries and Galloway was forced to close seven. Glasgow City Council confirmed it was closing six primary schools across the city because of weather-related problems, while South Lanarkshire Council closed 14 schools and nurseries.
Orkney Council shut four, while Aberdeenshire Council was forced to close 13 amid the weather conditions. Scottish Borders Council shut three schools on Thursday, North Ayrshire closed eight and Argyll and Bute closed 39 of its schools because of the storm. Fife Council shut one school because of a power loss sustained amid the adverse weather, while North Lanarkshire closed two and Perth and Kinross Council shut one.
Shetland Islands Council shut ten schools because of the storm, while South Ayrshire reported one had closure and Stirling Council shut 19 primaries, three secondaries and three nurseries.
Bobby Taylor captured video of the storm while in a fishing boat around 100 miles off Aberdeen in the North Sea. STV's Sean Batty estimated the waves shown in the video were around 20ft with gusts of around 70mph.
Chief Superintendent Iain Murray, head of road policing, Police Scotland, said: "The weather in Scotland can change very quickly and it's vital drivers are prepared. In recent years we have seen high winds, blizzards, snow and freezing conditions. The next few days is expected to bring with it some strong winds and severe cold weather and I would advise motorists to take care. Allow extra time for your journey and a keep a few emergency supplies, such as water and food in your vehicle to cover any eventualities."
Your report: If you have information on the stormy weather or any images of its impact, please let us know. You can send information and pictures to web@stv.tv or call us on 0141 300 3651.
For more on the weather, download the STV app for your city.