Gales cause travel chaos and power cuts across Scotland
Inverness left without power and schools in Glasgow and Argyll forced to close on Tuesday after weather disruption.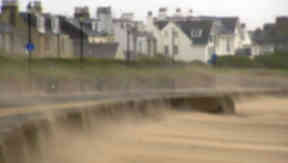 Severe winds of up to 100mph have brought large parts of Scotland to a virtual standstill.
Roads and rail lines were blocked by fallen trees after the gales swept across the country on Monday afternoon.
Tens of thousands of people suffered power outages as overhead lines were brought down, leaving the whole of Inverness without electricity at one stage.
Several schools in Glasgow and Argyll are to close on Tuesday because of weather damage, including Bellrock Nursery and Cranhill Primary School, Mount Vernon Primary School, John Logie Baird Primary in Helensburgh and Luss Primary.
In West Dunbartonshire, a driver died when a tree fell on his car in Mollanbowie Road, Balloch.
The rail network was hardest hit as rush-hour trains were cancelled and 143 passengers travelling from Glasgow Central to London Euston were stuck on board a Virgin train after a tree blocked the line.
Passengers in the rest of the UK were advised not to attempt to travel north of Preston or Newcastle, although by Monday evening some lines, including the Glasgow Queen Street to Edinburgh Waverley shuttle service, had been restored.
Wind speeds were expected to drop to 50mph by the early hours of Tuesday morning, allowing engineers to restore power and emergency services to begin clearing away the debris.
Scottish and Southern Energy said 30,000 of its customers were still without power well into Monday evening, with engineers working around the clock to restore supplies.
A spokesman said: "We are getting engineers to affected sites as quickly as possible, but travel is proving difficult because roads are blocked and we have to consider safety issues."
Scottish Power said 12,000 of its customers had no electricity on Monday afternoon after trees brought down power lines from Fife to Dumfries.
Wind speeds reached 70mph, with Glen Ogle in Stirlingshire recording a gust of 100mph on Monday afternoon. Meanwhile, a man was injured and a woman also hurt after a tree toppled on their car - a silver Renault Megane - in high winds on the A91 in Kinross.
In Perthshire a lorry smashed into the back of an ambulance that had collided into a fallen tree on the A9 near Greenloaning, but miraculously none of the occupants was seriously injured.
ScotRail withdrew all but a handful of rail services at 5pm on Monday, with only Edinburgh to North Berwick and Bathgate, and Glasgow Central to Largs/ Ardrossan Harbour, Ayr and East Kilbride running on a reduced timetable.
Later on trains from Edinburgh to Inverkeithing, in Fife, and Motherwell to Glasgow and the Queen Street to Waverley commuter line were also put back on track.
Virgin Trains suspended services north of Carlisle after power lines were brought down near Carstairs Junction.
East Coast trains were continuing to run between Newcastle and Edinburgh, but with delays of up to 60 minutes.
Ferry services on the west coast were also cancelled, with services to Arran, Mull, North Uist and Harris cancelled and many others delayed or disrupted.
The westbound slip road to Junction 2 of the M8 motorway, near Edinburgh, was closed, while Northern Constabulary warned motorists on the A82 in the Highlands to take particular care.
STV weather presenter Sean Batty said: "We've seen winds like this on a few occasions throughout the winter although in late spring/summer these can cause more problems as trees are in full leaf and therefore can be brought down easier by the wind and block roads or rail tracks."
IN DETAIL