Pub bosses to hold talks on relaxing smoking ban
The licensed trade in Scotland is to take advice on ways to relax the ban in a bid to stem the number of pub closures.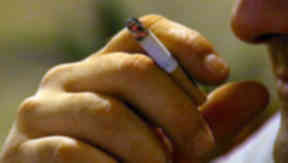 Scottish pub bosses are to hold talks on relaxing the ban on smoking in enclosed public places.
The Scottish Licensed Trade Association (SLTA) will take the advice of licensees from the Netherlands, Croatia and Hungary - all of which have a more relaxed system - at a meeting in Edinburgh.
The body said more than 800 pubs have shut since Scotland adopted "extreme" anti-smoking regulations.
Paul Waterson, chief executive of the SLTA, said: "We think it's appropriate, five years since the ban, to have a look at how it's working and perhaps re-evaluate it.
"We're flying some people over who are in the trade who have a far more relaxed system.
"Since the ban was brought in, about 800 pubs have closed their doors.
"It's not about going back to the old days, there's no appetite for that at all. But we think there's room for accommodation."
The SNP said in its election manifesto that tobacco "remains the biggest single preventable cause of death in Scotland".
The party wants to take further action to tackle the issue and set "ambitious" targets to reduce smoking.
Labour, in its pre-election pitch, said it wants to do more to tackle smoking, tightening up on legal loopholes and consulting on a possible ban on smoking in cars carrying children as passengers.