Former army chief says Cameron should call Salmond's bluff on independence
Lord Dannatt thinks the Prime Minister should call a referendum on Scotland's future rather than wait for First Minister to arrange one.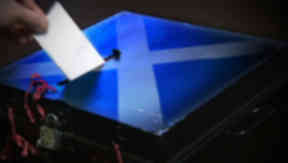 The former head of the British Army has called on David Cameron to "call Alex Salmond's bluff" over Scottish independence.
Lord Dannatt urged the Prime Minister to hold a referendum on Scottish independence next year rather than wait for First Minister Mr Salmond to decide when the time was right.
The former Chief of the General Staff said he did not believe that many Scots would want full independence from the UK.
Lord Dannatt was responding to a question from a member of the audience at the Hay Festival, in Hay-on-Wye, Powys, on the future of Scottish independence and the military.
"I can understand the Scots' desire for a greater degree of independence but when you really stare down the barrel of complete independence and providing for their own security, I am not sure they would want to do that," Lord Dannatt said.
"They might go to some half-way house whereby defence and security of the British Isles remains on a UK-wide basis.
"I think anything else would be most unwise and I think even the Scots would realise that.
"If I were David Cameron I wouldn't wait until Alex Salmond decided when the right moment was to hold a referendum, I'd call one in a year's time and call the Scots' bluff."
To a round of applause and laughs, he added: "I'm not a politician you know."
Earlier this month, Mr Salmond indicated his government would be prepared to share military facilities with the rest of Britain if it secures independence.
Mr Salmond has said that he will not hold an early referendum on independence in the wake of the SNP's landslide victory in the Holyrood elections.
Speaking on the BBC's Politics Show he said the country would be open to sharing military facilities with "friendly neighbours".
"An independent country has its own foreign policy. There's no way on earth that Scotland would ever have participated as an independent country in the illegal war in Iraq," he said.
"That stresses why you've got to have the ability and determination in order to chart your own way in the world so that you don't get entangled into illegal and disastrous international conflicts.
"Many, many countries in the world share military facilities with friendly neighbours and there's absolutely no reason why Scotland wouldn't be prepared to do that."