Activists stage oil rig protest
Edinburgh-based oil firm suspends drilling at Arctic rig after 18 Greenpeace activists breach exclusion zone.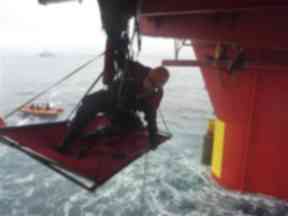 Environmental activists have managed to get on board an oil exploration rig operated by a Scottish firm as part of an ongoing protest against drilling.
Greenpeace said 18 activists climbed onto the Leiv Eiriksson rig off the coast of Greenland to demand details of how the operator - Edinburgh-based Cairn Energy - would respond to any oil spill.
Cairn Energy said drilling was suspended after the protesters breached a restricted area on the rig.
Campaigner Ben Ayliffe said: "Cairn Energy is hiding its oil spill response plan so we're going to the one place where there must be a copy of it."
Cairn Energy, an oil and gas exploration and production company, announced this week that it had begun drilling at two wells approximately 160km and 300km off Nuuk, the capital of Greenland.
Drilling had already been delayed by two Greenpeace protesters who occupied the company's 53,000-tonne drilling vessel, operated on behalf of Cairn Energy.
The protesters, who hung from the underside of the rig in an Arctic survival pod and had enough supplies to keep them there for 10 days, were removed by Danish police.
Cairn Energy has asked a court in the Netherlands to legally prevent Greenpeace from disrupting any future deep-sea drilling operations.
In a statement, the company said: "Cairn respects the rights of individuals and organisations to express their views in a safe and peaceful manner but would be concerned with any action that presents a risk to the safety of people and/or equipment."
WWF Scotland described the news that Cairn Energy had started the drilling as "bitterly disappointing".