Anti-rape march in Glasgow
Crowd gathers in George Square for the controversially named Slutwalk.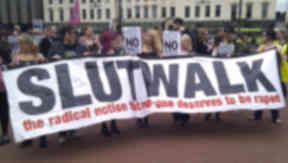 An anti-rape march took place in Glasgow on Saturday afternoon.
The controversially named Slutwalk was organised after a police officer in Toronto claimed women should avoid dressing provocatively to prevent being attacked.
An organiser for the event in George Square said: "Sadly, we live in a society that says 'don't get raped' instead of 'don't rape'. We want to stop victims being blamed, and blaming themselves."
Similar walks have been taking place around the world.