Dementia carer in one-man roadshow to raise awareness
Tommy Whitelaw is touring the country collecting stories from people who look after elderly relatives as part of Dementia Awareness Week.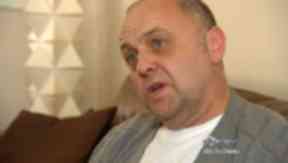 A man who looks after his elderly mother is going on a week-long tour to highlight the experiences of carers across Scotland.
Tommy Whitelaw, whose mother Joan suffers from vascular dementia, said he wanted to collect as many letters as possible from people in similar situations to present to the Scottish Parliament.
His campaign, which will take him to major towns and cities across the country, is part of Dementia Awareness Week, organised by Alzheimer Scotland.
At the end of the week Mr Whitelaw, who is visiting Glasgow, Aberdeen, Dundee, Falkirk and Edinburgh, will hand the collected letters in to Holyrood.
He told STV News: "It's not a protest, it's not a petition. If you're a carer, just try and write a little letter that explaining your life, any difficulties or it could be inspirational."
His mother will spend the week in respite care in Lambhill Court, in Glasgow, which in a twist of fate is the location of the first school she attended.
Speaking of his own experience, Mr Whitelaw said: "I stumbled into being a carer. I can understand why some people can't because they have children to bring up, but that was my decision and I've stuck by that.
"I'm devastated by how quick my mum is disappearing in front of my eyes. I don't know if my mum completely understands I'm her son. I think she just thinks I'm just a person that annoys her and doesn't let her out the house.
"The thing that saddens me as a person is my mum not remembering my dad. I can deal with her forgetting me, but 44 years of loving each other - nothing should take that away from you."
READ MORE