Independence 'could leave Scotland with £110bn debt burden'
SNP dismisses report by the Institute of Economic Affairs that accuses Salmond of being 'irresponsible' with public spending.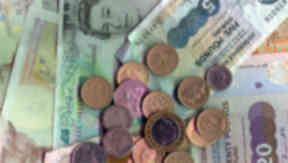 A leading economic think tank has claimed independence would saddle Scotland with a national debt of £110bn.
The Institute of Economic Affairs said public spending would have to be sharply curbed to stop an independent Scotland falling into the same debt spiral as Greece and Portugal.
The IEA calculated its figure by taking the UK national debt at the end of 2010, which was £1,106bn, and working out Scotland's share based on its public spending allocation.
The SNP dismissed the claim as "entirely flawed" and claimed the IEA's calculations were not based on "real world" criteria.
Richard Wellings, deputy editorial director at the institute, said that because Scotland receives almost 10% of total UK public spending, it should expect to inherit a debt figure of £110 bn as a separate nation.
He said: "These estimates show an independent Scotland could face a very severe public debt burden, particularly since North Sea revenues are likely to diminish in the medium term. Unless urgent steps were taken to curb government spending, Scotland could end up like Greece or Portugal.
"This further underscores the need for greater fiscal restraint both from Westminster and the devolved regions. Alex Salmond is being irresponsible in ignoring the impact of this debt on future generations.
"A greater degree of fiscal decentralisation could prevent the devolved regions from maintaining high levels of public spending that are economically damaging and unsustainable in the long term."
A spokesman for the SNP said: "The premise of this is entirely flawed because there is no precedent or example in the world of dividing assets or liabilities according to spending figures.
"In the real world, non-geographic assets and liabilities are divided on a GDP or population-share basis, but the more crucial point is the bankability of a country.
"As well as running a budget surplus compared to the UK as a whole, Scotland's oil and gas resources represent a trillion-pound asset base, worth more than 10 times Scotland's share of a UK debt built up by successive Westminster governments.
"Under an SNP Government Scotland has run a balanced budget every single year, and the idea that Westminster's economic incompetence in racking up record debt is an argument against Scottish independence is clearly a very silly one."