Edinburgh trams: Uniform and branding for transport system unveiled
Both the trams and Lothian Buses are integrating into Transport for Edinburgh.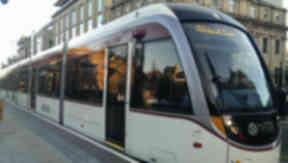 The new branding and uniforms for Edinburgh's tram service has been unveiled.
The city's buses are also getting a new look as the two transport systems are merged into Transport for Edinburgh.
On Tuesday, a new-look tram made its way to St Andrew Square where drivers and other operational staff were wearing their new uniforms.
It comes as a 2.1km section of track between the Gogar depot and Edinburgh Park Station has been handed over from contractors to the City of Edinburgh Council.
The first passenger service is expected to be running in May next year.
Cllr Lesley Hinds said: "With full line testing underway and the trams now ready for service, everyone involved is completely focussed on service launch in Spring 2014. The new look has been developed in a way that reflects the integrated nature of the services offered and when trams get up and running I think customers will see the benefits.
"Transport for Edinburgh is a new approach to transport in our city, one that prioritises the customer and the future economic growth of Edinburgh.
"We're already integrating ticketing, timetabling and customer services to make journeys easier but there's much more opportunity ahead to develop wider transport policy in a way that benefits everyone who wants to get around the city, whether they use bus, tram, bike or go on foot."
Lothian Buses vehicles will start to be rebranded in January, and the trams will have the new livery from the start of operation.
Ian Craig, Chief Executive of Transport for Edinburgh, said: "People will start to see the new logo branding on our bus vehicles from January next year and on all trams at operational service. In the short term there will be no direct changes that will affect our passengers; ridacards and pre-purchased tickets will still be valid for use."