MPs take over inquiry into use of Scottish airports for CIA flights
The Detainee Inquiry headed up by Sir Peter Gibson has been scrapped by the UK Government.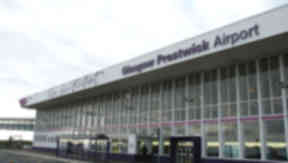 An inquiry into whether Scottish airports were used by the CIA to transport terror suspects to secret prisons for torture has been scrapped and handed over to MPs.
Glasgow Prestwick Airport has repeatedly been identified as a possible site used by the US intelligence agency, while researchers have identified Edinburgh, Glasgow, Inverness, Wick and Aberdeen airports as other possible bases.
An initial inquiry headed by Sir Peter Gibson into the use of rendition and torture highlighted 27 areas of concern, but has now been scrapped and will be passed to the UK Government's Intelligence and Security Committee, it was announced on Thursday.
In a report released by The Detainee Inquiry on Thursday, it confirmed it had received information from the Department of Transport about the presence of aircraft used in rendition at Prestwick in October and December 2001 and in January 2002, but it was "impossible" to say whether they were being used at that time for the practice.
Earlier this year, Police Scotland confirmed it expected to receive instructions from the Crown Office to launch a formal inquiry into the use of Scottish airports for rendition flights.
Academics behind The Rendition Project revealed earlier this year that they had found evidence that Prestwick, Edinburgh and Glasgow airports had been used in torture flights following the declaration of the War on Terror in 2001. The researchers also recorded flights involved in the process landing at Inverness, Wick and Aberdeen airports.
Minister without Portfolio Ken Clarke told MPs improvements to oversight of the secret services had helped to "draw a line" under problems in the past, but said it was vital to look into possible problems in the past.
Mr Clarke said: "The Prime Minister has discussed and agreed with the Intelligence and Security Committee of Parliament they will inquire into the themes and issues which Sir Peter has raised. They will take further evidence and they will report to the government and to Parliament on the outcome of their inquiry."
He said "a line has begun to be drawn under a difficult period of the past", but added: "It remains important that we deal properly with the 27 issues which Sir Peter's report raises. It would be wrong to leave these issues, many of which relate to matters of policy, unexamined for the unknown amount of time it will take for the police to complete their related investigations."
Announcing the Gibson Inquiry in 2010, in the wake of a series of allegations relating to the extra-judicial movement of suspects between countries in so-called rendition flights and the abuse of detainees at Guantanamo Bay and other jails around the world, Prime Minister David Cameron declared that he was determined to "clear things up" in order to "restore Britain's moral leadership in the world".
But the inquiry was halted after the launch of police investigations relating to detainees allegedly transported illegally to Libya, and Mr Clarke said it would be "wrong" to now ask a judge to take forward an inquiry which could compromise an ongoing criminal probe.
Amnesty International's Europe director John Dalhuisen said the Gibson Report made clear the need for "an effective, independent, human rights-compliant inquiry".
He added: "The Intelligence and Security Committee is the wrong body for this vital job and today's announcement is yet another effort by the UK to shirk its responsibilities. Handing the investigation over to the ISC raises the prospect that much of the truth may remain buried, and that no full judge-led inquiry will ever materialise."