Scottish Government urged to act to stop homeless dying 'too young'
The Scottish Government has been urged by Labour to take action to prevent people who sleep rough from dying 'far too young'.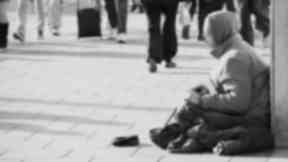 The Scottish Government needs to act to prevent people who sleep rough from dying "far too young", Labour has said.
More support and accommodation is needed for those living on the streets, the party's welfare spokeswoman, Jackie Baillie, said.
She made the plea as homelessness charity Streetwork said that life expectancy for a rough sleeper in Scotland is just 39.
That is eight years less than the average life expectancy for people sleeping rough in England, Ms Bailie said.
She urged the Scottish Government: "Let's make a commitment this winter to end the scandal of people sleeping on our streets.
"A rough sleeper in Scotland is likely to die at the age of just 39, some eight years earlier than the average age of death for a rough sleeper in England. That should shock all of us.
"At this time of year when the challenges facing rough sleepers increase with bad weather, we need to ensure that we redouble our efforts to end rough sleeping in Scotland.
"For too many, there simply isn't the emergency accommodation available to ensure that they have a safe place to sleep at night. There is simply no room at the inn.
"The SNP Government needs to act and act now.
She added: "There are too many rough sleepers in Scotland. There are too many rough sleepers dying at an age which is far, far too young. They need support and stable accommodation to help turn their lives around."
The charity's chief executive, Claire Gibson, said that, for many people, age 39 is "considered the prime of their life" but for Streetwork, "on average, it is the age at which someone rough sleeping will die".
Ms Gibson said: "Streetwork aims to be there to stop that happening. In these times of austerity measures we see despair, desperation and destitution on the streets. Welfare reform, unemployment and the chronic shortage of housing are impacting on the routes off the street.
"Streetwork is on the streets of Edinburgh 365 days a year reaching people in crisis but we must do more to mitigate the inevitable increase of crisis and rough sleeping in our capital city."
A Scottish Government spokeswoman said: "The Scottish Government works closely with local authorities and their partners to prevent homelessness and rough sleeping wherever possible, and some of the projects funded by the recent announcement of £2.1m for projects in the voluntary sector have this as their aim.
"Charities like Streetwork provide a valuable service in highlighting the plight of homeless people in Scotland, and their findings serve as a reminder of the hardships faced by those who are sleeping rough.
"Anyone who finds themselves in this position has a legal right to temporary accommodation, and the Scottish Government works closely with local government to assist them in fulfilling their statutory obligation to assist homeless people into accommodation through funding and other supporting measures.
"We also welcome that the numbers of rough sleepers in Scotland has been decreasing since 2007-08, when 10% of applicants for local authority homelessness assistance had slept rough the night before. This has now dropped to 4% in 2012-13, and we hope that this decline will continue."