School meals questioned after 83 hygiene improvement orders issued
The FSA issued the notices after inspecting schools, nurseries and clubs across Scotland.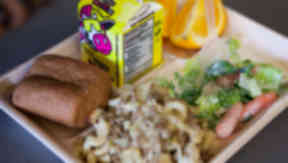 A total of 83 improvement orders have been given to school kitchens after food hygiene standards were found to have not been met, figures have shown.
The Food Standards Agency issued the notices after inspecting schools, nurseries and after-school clubs across Scotland.
Conservative education spokeswoman Mary Scanlon, who drew attention to the figures, called for better standards.
"It is simply shocking that thousands of children across Scotland have been served food from kitchens that have failed standard hygiene laws," she said.
"Parents will be horrified to know their child may have been served a meal from a facility that inspectors saw fit to serve with an improvement notice.
"Basic levels of cleanliness should be adhered to across the board and any failure to meet such standards should be addressed as a matter of urgency.
"We are constantly being told to follow strict hygiene rules and it's only right that schools, nurseries and after-school clubs do the same.
"One kitchen failing to make the grade is one too many and those in charge of our children should be striving to ensure that all the food given to our children is served from premises that meet the highest possible standards."
The agency's "improvement required" notices are given if inspectors think a premises has failed to live up to the terms of the food hygiene information scheme, run in partnership with local authorities.
The number of notices increased from four in 2009 to five, 23 and then 28 by 2012. There were 23 notices last year.
A Scottish Government spokesman said: "Local authorities are ultimately responsible for standards of hygiene in school kitchens, which should be of the upmost importance, and school premises should be also inspected by councils' own environmental health services.
"The food hygiene information scheme applies to all food outlets that supply food to consumers in the authorities taking part in the scheme and the scheme is currently running in 30 Scottish local authorities.
"All food businesses whether private or local authority owned must comply with the current food hygiene regulations.
"Local authorities are responsible for food law enforcement in this type of establishment and have powers to close down establishments that pose an imminent risk to public health."
Councillor Douglas Chapman, education spokesman at council umbrella organisation Cosla, said: "Local authorities take their responsibilities very seriously in terms of the nutritional value and quality of food served in schools and in its safe preparation.
"On a daily basis school kitchens must be one of the most significant producers of meals in the country and our staff work to the highest professional standards. Any recommendations for improvement are taken very seriously as we have a strong ethos relating to our duty of care to every child."
The SNP councillor added: "I am disappointed by the intemperate language used by the Conservative MSP especially since they support private schools, free schools and academies, none of which are subject to school meal standards with which local authority schools are expected to comply."