PM under fresh pressure to have public debate with Alex Salmond
David Cameron has again been urged to have a public debate with Alex Salmond after his New Year anti-independence message and an SNP poll.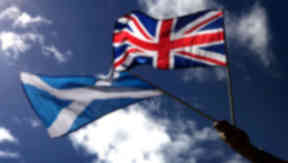 David Cameron has come under renewed pressure for a public debate with Alex Salmond following his New Year anti-independence message.
A new SNP poll which suggests a substantial number of British people want to see them go head-to-head on television has added further pressure to the Prime Minister.
Over three-fifths of people in Scotland and over half of people in the rest of the UK think there should be televised referendum debate between the Prime Minister and First Minister, a Panelbase poll commissioned by the SNP found.
This compares with around a quarter on both sides of the border who do not wish to see a TV debate, the poll suggests.
Mr Cameron has steadfastly refused Mr Salmond's challenge, insisting the debate should be amongst the people of Scotland.
But in a new letter to Number 10, Mr Salmond told the Prime Minister that his New Year plea to Scots to stay in the UK undermined this argument.
Mr Salmond said: "I note that you used the centre-piece of your New Year address to attack Scottish independence.
"It seems that you want to dictate the terms of the debate about Scotland's future without taking the democratic responsibility to defend your views in open debate. That is simply unacceptable."
Mr Salmond also accused Mr Cameron of using Scottish public funds in the anti-independence campaign, and then plotting to cut Scotland's budget if it votes no.
He added: "The reality is that your Government, in line with its predecessors, is itching to cut Scotland's funding in the event of a No vote whilst simultaneously directing its taxpayer funded resources to direct the case against an independent Scotland."
In his New Year message, Mr Cameron said: "This year, let the message go out from England, Wales and Northern Ireland to everyone in Scotland: we want you to stay, and together we can build an even stronger United Kingdom for our children and grandchildren."
The Panelbase poll of 1012 people in Scotland found 63% backed a televised debate, 25% opposed it and 11% were undecided.
A related poll of 1011 people in the rest of the UK found 56% backed a televised debate, 24% opposed it and 19% were undecided.
Deputy First Minister Nicola Sturgeon said: "These figures demonstrate that there are decisive majorities in Scotland, and among people in the rest of the UK, for a televised referendum debate between Alex Salmond and David Cameron.
"In Scotland, most Labour, SNP and Lib Dem voters want a debate between the First Minster and Prime Minister; and in the rest of the UK they are joined by a clear majority of David Cameron's own Tory voters, as well as Labour and Lib Dem supporters.
"Yet while David Cameron is happy to pull the strings of the No campaign from 10 Downing Street, he is scared to debate Alex Salmond face-to-face. As the leading politician seeking a No vote, Mr Cameron has to find his courage in referendum year.
"David Cameron's Government has boasted that 'Whitehall's full intellectual might' is engaged in trying to achieve a No vote in the referendum, with the Treasury spearheading a 'coordinated push' - resulting in 13 reports being produced across UK Government departments to support the No campaign.
"It is abundantly clear that the No campaign is Tory-led and Westminster-led - a fact further underlined by the Prime Minister's New Year message.
"Therefore, as the principal signatories of the Edinburgh Agreement, the natural progression in these circumstances is a televised, head-to-head debate between Mr Cameron and Alex Salmond - a democratic position supported by a substantial majority of people north and south of the border."
A spokesman for Yes Scotland said: "A televised debate with the First Minister and Prime Minister will help Scots choose between the two futures on offer and ensure that the UK Government fully explains why it is willing to implement unwanted policies north of the border."
A Number 10 spokeswoman said: "The Prime Minister is Prime Minister of the whole United Kingdom and of course has a role in the referendum campaign, however, he believes that the debate should be led by Scots in Scotland and that is why Alistair Darling will lead for the No campaign."
Mr Cameron reaffirmed his opposition to televised debate on the BBC's Andrew Marr Show.
"On the issue of the debate, I know why Alex Salmond is pushing this argument - it's because he's losing the current argument and he wants to try and change the argument," he said.
"But this is not a debate between me and him. The debate should be between people in Scotland who want to stay and people in Scotland who want to go."
Mr Cameron agreed that the referendum decision will affect everyone in the UK, but insisted the debate should take place in Scotland.
He added: "We debate these things in parliament and we debate them in the media.
"But the key question - does Scotland stay in the UK or does Scotland leave the UK? - that is for Scots to decide. I don't have a vote in this. It is for Scots to decide and that is where the debate should take place."