Olympic stink: Could you support a Great Britain football team?
As Olympic bosses suggest Scots footballers can be picked for the UK team at London 2012, we ask if any of our young stars could even make the squad.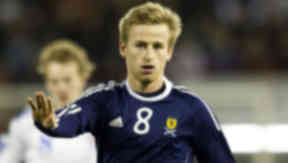 There is a minute to go in the Olympic final of the men's football competition and Great Britain need to score to strike gold.
Theo Walcott aims a corner towards strike ace Andy Carroll, who nods it towards the back post. Captain fantastic David Beckham skies his shot, but a random leg goes out and the ball trickles into the net. The nation rejoices. Thank goodness for Barry Bannan.
That Bannan is a Scottish midfielder who last season was farmed out on loan by Aston Villa would no doubt be of little consequence to the largely English crowd. For that moment at least, he would be British.
But what about us Scots? Could we really cheer on a Great Britain team made up of young English stars, Welsh winger Gareth Bale - arguably the only world class player in the UK outside England - and one or two Scots picked to warm the bench.
The British Olympic Association (BOA) yesterday announced a "historic agreement" which it claims allows footballers from Scotland to join the British team at London 2012.
The Scottish Football Association's reaction was initially one of bewilderment that this issue had once again reared its ugly head - and then anger that they had apparently been ignored.
The rules of the tournament state that players must be 23 or younger. But each team is allowed three wildcard picks of any age.
These spots are likely to be taken by Englishmen including keeper Joe Hart, experienced defenders like John Terry or Rio Ferdinand, the aformentioned Mr Beckham as on-field ambassador or even Wayne Rooney, if he can be bothered.
So if experienced stars like Darren Fletcher and Charlie Adam miss out, the only slots open to Scots would be for youngsters, who would undoubtedly struggle to make a case for their inclusion over the likes of Walcott, Jack Wilshere or Josh McEachran.
Of course Bannan, West Bromwich midfielder Graham Dorrans and Liverpool defender Danny Wilson might all light up the Premiership next season and force their way in.
But if they agreed to take part, how would the Tartan Army footsoldiers and SFA bosses treat them when they returned to the Scotland fold?
Would these players really put their international careers in jeopardy just to momentarily rub shoulders with Usain Bolt at the opening ceremony?
Considering the mighty and lingering stink the whole issue has caused, you have to wonder why the BOA are going to all this bother.
Could it be the English are just worried about filling the troublesome left wing berth? Is all of this just because they want Tottenham's Bale to join their ranks? Stranger things have happened, particularly in football.