Concerns over proposed changes to prison visiting committees
The Scottish Government has been told replacing current prison visiting committees could cause 'real confusion' among inmates.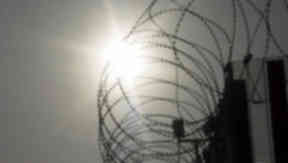 Replacing prison visiting committees with two types of monitors could "cause real confusion" among inmates, the Scottish Government has been told.
Member of Holyrood's Justice Committee has raised a number of concerns about plans to set up a new independent monitoring system for Scotland's jails.
The Scottish Government has already put forward proposals to axe prison visiting committees, whose members get free access to prisons to monitor conditions and hear complaints from inmates as part of their work.
A draft order to abolish the bodies and create new roles for prison monitors and volunteer lay monitors was laid at the Scottish Parliament last year.
Under the proposals, paid prison monitors will be supported in their work by the lay monitors - but only the lay monitors will be able to hear complaints from prisoners.
Justice Committee convener Christine Grahame said: "We're not convinced that two levels of monitoring are needed and if paid and lay monitors have different roles, such as in dealing with prisoners' concerns, it could cause real confusion among prisoners."
In its report on the matter, the committee called for "clarification from the Scottish Government of why there is a difference in the powers of prison monitors and lay monitors to hear complaints from prisoners, which would seem to cause unnecessary confusion and complexity".
The MSPs said they had "heard evidence of significant opposition to the creation of paid monitors", who would have a managerial role over the volunteer monitors.
They demanded more details from the Scottish Government on the benefits of this and also called on ministers to respond to concerns that "having two layers of monitors could adversely affect the trust prisoners have for monitors and the willingness of people to volunteer to be lay monitors".
While the current prison visiting committees are funded by the Scottish Prison Service, the new system proposes to have prison monitors paid and overseen by HM Chief Inspector of Prisons Scotland (HMIPS).
This change will ensure that prison monitoring in Scotland meets the standards required by the Optional Protocol to the UN Convention Against Torture (OPCAT).
The committee said it welcomed "the proposal to remove the funding and support of independent monitoring of prisons from the Scottish Prison Service, thereby ensuring that prison monitoring in Scotland becomes OPCAT compliant".
But MSPs raised concerns that the independence of prison monitors may be seen to "compromised" by this set-up.
"The committee believes that the operational independence of prison monitors is essential and this may be perceived to be compromised if HMIPS instructs and also pays them," the report said.
As a result, MSPs called on the Government to set out how the "distinctiveness of monitoring" would be maintained and how the "draft order will achieve the independence and representativeness of monitoring".
Ms Grahame said: "Though our committee welcomes the move to ensure that prison monitoring in Scotland becomes compliant with United Nations protocol against torture, we also have a number of reservations about the arrangements being proposed.
"There must also be a clear, understandable distinction between the roles of monitors and inspectors."If, for example, a prisoner is being bullied, he may not feel he can trust a paid official from the inspectorate, but could be able to talk to a volunteer monitor who regularly visits the prison."
A Scottish Government spokeswoman said: "We remain committed to creating a new system of independent monitoring of prisons. The new robust, professional, and co-ordinated approach will provide Scotland with a gold standard in prison monitoring.
"We have noted the points raised by the justice committee and will formally respond in due course."