Royal Navy helicopter makes emergency landing 'as a precaution'
The crew made the landing after noticing a 'potential' issue with the temperature gauge.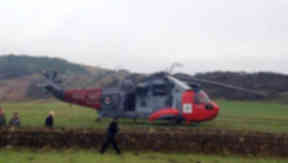 A helicopter made an emergency landing in a field as a "precautionary measure" by the crew.
The Royal Navy Sea King helicopter landed in Androssan, in North Ayrshire, shortly after 11.30am on Friday.
There were four crew on board at the time and no one was hurt in the landing.
The aircraft, which landed close to the Montfode roundabout, is expected to expected to depart for Prestwick later.
The nearby A78 was unaffected and remains open.
The helicopter was on its way to routine training when it was forced to land.
North Ayrshire police said: "We can confirm all crew on board the Royal Navy Sea King helicopter are safe and well."
Coastguard crews were also at the scene to help the helicopter crew, and engineers from HMS Gannet are on site assessing the aircraft.
A Royal Navy spokeswoman said the crew had identified a "potential technical issue" with the temperature gauge.
She said: "The landing was smooth and unhurried. The aircraft was not involved in a live emergency call-out at the time – it was en route to routine training
"At no time was there any danger to the aircraft, crew or the public. There are no injuries."